Friday 22nd of July 2005:
Climate: Cloudy and 20 0C
Health: No problems and both in good shape, anxious to go.
Thought of the day: Still canít believe we are going on the world trip (Anita) Itís time to get rolling (Henk)

Last preparations and one short night and off we go on our world trip! What is a world trip, is it around the world, or a long, long trip? Well we donít know the exact definition, but for us itís our world trip and our biggest adventure together so far.

Today we bought some food supplies (crackers, jam, water and muesli) and found out it comes in very handy. We especially recommend cup-a-soup, tea and instant coffee, since each wagon of the Trans-Siberian train has a Samovar which gives clean hot water.

With the complete bag of medical equipment Anit bought in Poland we still found room to buy some missing items like Hadox to purify water, Deet to scare of the mosquitoís and some leucoplast (medical tape).
Also one last visit to the outdoor shop was handy since they sold these small waterproof bags where you could put in your stuff divided into clothes, medical, electrical, etc, so the mess in the backpack stays limited.


In the afternoon we started packing our bags and not everything fitted,
so we had to make some selections.

In the evening we enjoyed our last Dutch meal (bread rolls with chocolate) at Ingrid and Alwinís place. Henk didnít sleep that night (he didnít want to) and finalized preparing his last things regarding documents, packing, etc. It was a short night anyway, since the airport taxi was going to pick us up at 3 in the night!


Saturday 23rd of July 2005:
Place: Netherlands
Climate: Cloudy
Health: No problems and both in good shape
Thought of the day: Do we have everything? Nothing left at home? (Anita & Henk)

03.00h! and the Schiphol taxi was there to pick us up. One last farewell hug and kiss with Henkís parents and there we went. The taxi driver was a nice guy and wanted to talk and talk, but all we wanted was sleep and sleep and we won (or Mr. Sandman so to say). At 05.00h we arrived at Amsterdam Schiphol airport a bit too early and there was still no possibility to check in as we thought. After waiting +/- 30 minutes and looking for an open toilet we found out we had to go to the check-in machines to check ourselves in and hand over the luggage to the KLM lady. It was not so busy yet since we were between the charter flights (which leave at night) and the regular line flights, but we were told we were at the airport on the busiest day of the year.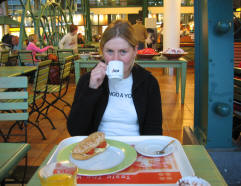 Now, after the security check finally time for some breakfast! A nice cup of coffee, fresh orange juice and some Italian bread rolls. Hmmmm delicious!

The flight was slightly delayed and we took off at 07.10h, but arrived more or less in time for our stop in Paris. Charles de Gaule airport in Paris is not of great fun, too big, no clear directions and a long tour with the bus. Finally we arrived at the gate where there was a plane to Moscow. We were almost too late, but than, as usual it had 40 minutes delay so Ďnie ma problemuí. Funny enough with Air France you have 3 classes and we had seat 6 A and B which was in the middle class so again a nice breakfast. Thatís going to be difficult to loose some weight!
When we took off, the view was great, we flew straight over Paris and Henk and Anita finally saw the Eiffel tower.
Arriving close to Moscow we had to circle for +/-30 minutes due to bad weather conditions and we must say the landing was quit rocky. Nevertheless, we arrived safely.
Read now further on the Russia page.