Sponsors: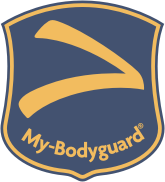 Thanks to Rob Kuipers of My-Bodyguard you can track us where ever we are on this globe (Click "Where are we?").
Rob's company develops and produces a GPS-system which can help locate people like top managers, people who work alone at night (e.g. security personnel) or people that feel insecure and want an easy way to get help quickly. Other applications are tracking of trucks, VIP's, etc.
For further information we ask you to go to www.my-bodyguard.com or send and e-mail directly to us info@worldtrip.pl with your contact details. We will make sure Rob Kuipers and his team will contact you shortly.