Saturday 23th of July 2005:

Place: Moscow, Russia
Climate: Cloudy but warm
Health: No problems and both in good shape

At the airport we were as quick as the wind to be ahead of the rest and it helped. There was no big queue and within 15 minutes we were through the passport control. Now waiting for our luggage and the 2 yellow bags came! At custom control the officer was attracted by the yellow bags and wanted to double check us, but we were saved by his ringing mobile. Thanks God! We spent quite a time to pack our backpacks in a right order.

Yaroslav, thanks for the driver, he was already waiting for us. By the way, we thought Formula one was not yet in Moscow. Our driver thought his last name was Schumacher but luckily we arrived quick and without accident at the hotel.
By now it was 16.00h Moscow time! At 17.00h we met Yaroslav and Julia and we went for a dinner. It was a nice evening and we already had our first 'new' friends from this world trip. We agreed to meet next morning for breakfast.

Sunday 24th of July 2005:
Place: Moscow, Russia
Climate: Sunny and 30 0C
Health: No problems and both in good shape
Thought of the day: Moscow – wow! – Huge and rich city, police everywhere, a complete chaos on the streets (Anit) Moscow, good place to visit, not to live! (Henk)
At 11.00h Julia picked us up and we drove to a small cozy restaurant, met Yaroslav and had breakfast all together. Anit tried the Russian porridge, without success!
Ismailova market: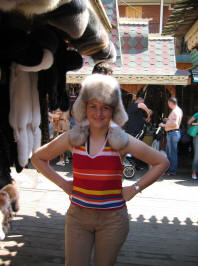 According to Henk a visit to Moscow is nothing without a visit to Ismailova market, so together with Julia we went to this market to look, test and maybe buy some nice stuff. You can see a lot of nice things here like icons, old record players, carpets, mini-statues of Lenin, Russian heads, souvenirs and lots more.
In the evening Yaroslav and Julia took us to the tourist tram in Moscow to already get acquainted with the feeling of traveling in the train. We had a nice cold beer, drove a few rounds around the lake and went to the restaurant where we had a small dinner. In Moscow you can easily spend your money as we saw on the menu card a wine of 4000 US$! The evening was good and we talked about our trip and got some ideas about places Yaroslav and Julia visited (like Fuji or Vietnam).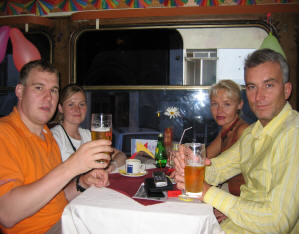 Yaroslav and Julia, thanks for the nice time we spent with you.


Monday 25th of July 2005:
Place: Moscow, Russia
Climate: Sunny and 30 0C
Health: Henk Ok, Anita got a cold
Thought of the day: Moscow was nice but enough, now we are looking forward to the train trip (Anita & Henk)
In the (late) morning we visited a couple of underground stations (impressive and really worth seeing). Make sure you know some Cyrillic because all names and directions are in this language! Also the percentage of the English speaking (young) people is much lower than we expected! One station we for sure recommend to visit is the Revolution square station, close to the Kremlin.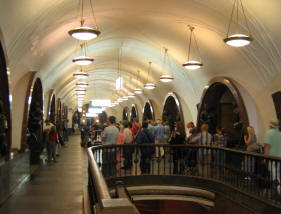 Later that day we decided to rest in the park next to Kremlin due to the very hot weather and Anita's health state which unfortunately got worse.
At 6pm we met Tatiana and Olga, Henk's colleagues from Metro Sorma Service, and together we had a delicious dinner at the Azerbaijan restaurant. Thanks to a great hospitality of Tatiana and Olga, we had a sightseeing trip around Moscow and were later on brought to the Yaroslav train station. This evening at 23.30h we would board our train to Irkutsk. Accompanied by Tatiana and Olga we got on the train handing in our tickets to our provadnica – Irina.
Very quickly we found out that the train was full of Dutch people – lucky Henk! Actually he felt immediately like a fish in the water……..and Anita, with the fever of 39 degrees, made her way to bed.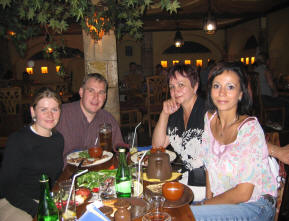 Tatiana, Olga and also to the driver who helped carrying our luggage (actually Anit's backpack) thanks for the hospitality and the nice time in Moscow.
Tuesday 26th of July 2005
Place: Moscow, Russia
Climate: Sunny, around 250C in the train (airco in each compartment)
Health: Henk Ok, Anita high fever (38.50, headache, weak and stayed in bed almost all day).
Thought of the day: No thoughts, just hope the fever would finally go down (Anita); All my thoughts were with my Anit!!! (Henk)
Since we booked the first class (highly recommended), we enjoyed all the comfort of a train trip one could imagine. Surrounded by Dutch and German tourists we felt save and (especially Henk) like at home. First ideas were already made to paint the train orange. Irina and Svetlana (our second provadnica) took good care of our compartments, as well as of the toilets and the corridor. Regular train stops of 20 minutes allowed us to stretch the legs and buy some local food. The corridor was of course the best place to have a chat with the co-travelers. In total there were 4 Dutch couples in our wagon whom we quickly got to know and who we met a couple of times during our trip down to Ulaan Baatar. Wait a moment; are we now in Russia or on the train somewhere in the Netherlands??? (says Anit)
In the train there are two possibilities for walking: either you go to the back of the train or to the front part. We did both J. To make the matter worse with the Dutch train occupation (Anita's input; Henk was happy), we met a group of 10 Nederlanders from Enter (see our picture from 'het Dorphuis oet Enter'), and some more Dutch, and more Dutch. The second class looks quite ok, there is of course less space, but if you are traveling with four or a bigger group,choosing the second class is a reasonable and cheaper solution.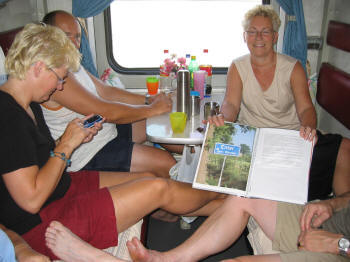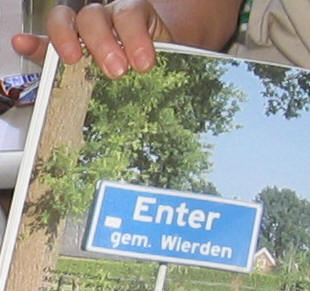 The third class – only if you look for contact with local people. Contact meaning literally contact, since there is so little place there that you almost touch each others feet while lying on the narrowly installed beds (more than 50!) in one wagon without compartments. Your choice!

The train restaurant offers quite good (simple) meals but very small portions! Don't go there if you are hungry J or order directly everything double! We only used breakfast in the restaurant. Every day standard procedure: "Adin ham, dwa jajka, adin syr, adin jam, adin chleb, adin czai s lemono i kafa s melekom ".
The first day almost gone, and we are further and further from home. On the way we stopped in Vladimir, Kirov, Perm (see Lonely planet for all stations). Go out of the train, it's a good moment to catch some fresh air, see the station building and buy fresh bread, fruits and (not always cold) drinks and CocaCola for Henju.
Henk built up friendship with our provadinca Irina using his great polish and non-verbal communication. To help him overcome the sorrow after we leave the train, we took a picture with Irina on board!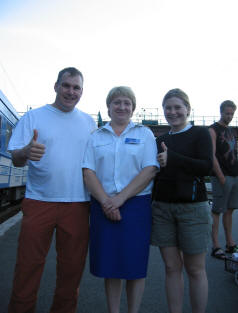 Wednesday 27th of July 2005
Place: Yekaterinburg - Novosibirsk, Russia
Climate: sunny, about 27 0C
Health: Henk in good condition; Anit still with some fever (37.5 0C) but step by step getting better
Thought of the day: Looking outside is like in a movie theatre and we are moving further and further away from home (Henk); What I see are forests, small, brown wooden houses, a lot of old, empty industrial buildings (Anita)
Today we traveled from Yekaterinburg to Novosibirsk. Please do not blame us if it is not 100% correct, because one thing that will happen for sure is, you'll loose the track of time in this train.
The train actually travels all the way to Irkutsk on Moscow time, but in the meantime we pass 5 times zones. Keep in mind that we also wanted to keep our Polish/Dutch time, we finally got totally confused?!?!?!?!?
Luckily in the train there was a time table with all stops, etc, but based on Moscow time and in Cyrillic, but Anit refreshed her many years of study of Russian language and helped the whole wagon explaining where we were.
What do you do in the train? Well, main things we did was exploring the train, visiting our neighbours, getting out at most of the stops, trying to have a 'shower' in the morning with only a water tap with a nipple "like from the pigs mother, you remember?" (Henk) you have to push and hold to get water with one hand and wash with the other. In the morning we had breakfast in the restaurant and, compulsory, a 4 o 'clock Cup-a-Soup! But which 4 o 'clock? Dutch/Polish, Moscow, Irkutsk time…
Thursday 28th of July 2005
Place: Novosibirsk - Tayshet, Russia
Climate: sunny, about 27 0C
Health: Henk in good condition; Anit getting better and better everyday and now almost feeling well
Thought of the day: Last full day already, time is flying when you're having fun (Henk); Actually the time goes to quickly, we're almost there! (Anita)
The fellowship of our wagon? With whom are we spending most of our time during this train ride, well, pictures say more than words, so please have a look at the next picture: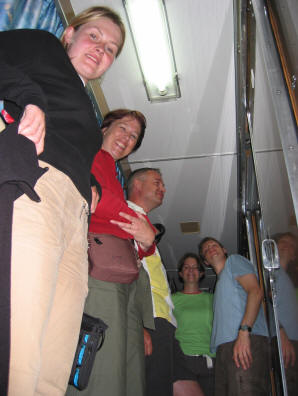 From left to right: Anita, Gerda & Arjan, Esther & Arno. Also we had many nice chats with our neighbours on the left side Jur & Lenny. All of them were going to Baikal lake, Ulaan Baatar and down to Beijing, so the chance is that we meet again.
Guys, we hope you are having fun!

Friday 29th of July 2005

Place: Irkutsk, Russia
Climate: sunny, about 28 0C
Health: Anit and Henk in good condition
Thought of the day: Amazing how friendly and hospital Dimitri and Lilia are (Anita); My first Pizza breakfast (Henk)
We arrived in Irkutsk at 4.30am Moscow time and 9.30am Irkutsk time. We said good-bye to our travel companions as well to Irina and Svetlana and were immediately picked up by Dimitri and Lilia (business partners of Tatiana and Olga from Moscow). Good organization, thanks.
Our initial plan was to catch the bus from Irkutsk to Olkhon Island but unfortunately we missed it, by a few minutes. This bus departures every day at 10am from the bus station which is not at the same place as train station so there is little chance to catch this bus. Our plan "B" was to go to Listvyanka, a small tourist village at the Baikal lake and after a sightseeing tour in Irkutsk, and a quick visit to the best Tennant dealer in the Irkutsk region, Dimitri and Lilia kindly took us to this place.
After finding accommodation there we went to the local market to buy some fish. Our room by the way was a very simple room with the shower outside the house/hotel built in the sea container? The price for all this 'luxury' was 40 US$!!! (We would say too high for the offered standard). The alternative was a room with two beds for 13 $, but the place was smelly and without a shower what after 5 days in the train is a must.
The culinary must while visiting the Baikal lake is an OMUL fish which you simply can't miss there! Together with Dimitri and Lilia we enjoyed this fabulous taste sitting at the lake and admiring the great wild nature. For the first time in our life we also tried the pine tree apple seeds. We didn't know it was eatable, but the taste was quite good. After Dimitri and Lilia went back to Irkutsk we decided to reduce the jetlag and have a nap to recharge the batteries. Apparently the time change confused our biological clocks since we woke up in the late evening. After the awaited shower we had a chat with a group of … Dutch people (what a coincidence, hahaha) and in order not to interfere with the biological clocks any more, we made our way to bed again. Goodnight.
Saturday 30th of July 2005

Place: Livstyanka, Russia
Climate: Sunny, 30 0C
Health: Anit and Henk in good condition
Thought of the day: I liked the hiking around Livstyanka and also the shower in our gorgeous sea container (Henk); Such a nice place, so many possibilities to develop the tourism here, however, there is still much to be done here (Anita)
Today was a very fine day. We woke up at about 09.00 hour and had an excellent breakfast at the guesthouse. At first some kind of rosti (with baked potato, baked carrot and Omul fish) was served. Additionally, we got porridge from grain with rosins and small pieces of apple, mmmmmmmmm. For the rest there was bread, cheese, orange juice, small salad and tea (apparently, Russian don't drink much coffee).
Blue sky and a full sun encouraged us to visit the village and its surroundings. In the harbour there was a tourist boat which was about to leave for an hour cruise on the Baikal. At first we thought that it was not very interesting but when we saw the Dutch group from Enter already on board we spontaneously jumped on to enjoy the trip with them. Later this day we climbed the nearby mountains and finally found an observation point which offered a breathtaking view on the whole village.
To be at the Baikal and not have a small bath in its waters is a sin. Our hero Henk was not afraid and had a (short) swim in the lake. Anita stayed at the pier; 150C was a bit too cold even for the people from Poland.
At 5.30pm we were supposed to take a boat back to Irkutsk. We came to the harbour 40 minutes before the scheduled departure time in order to avoid the crowds as advice by Dimitri. However, to our disappointment, none of the boats that came into harbour was heading to Irkutsk. Finally, after two hours, there was our boat! Ready to jump on the board we were stopped by an unfriendly Russian woman who said in the Russian: no places, we don't take anybody". Indeed, when the boat came, it was very crowded, but a number of 30 people left the boat, so there was place enough to take us onboard?!? Instead, we got unfriendly looks from the boat staff who closed the door in front of our noses without any word of explanation. Unbelievable but still not the end of the world! After a while we managed to get on taxi which took us to Irkutsk. This not really pleasant experience was however recompensed by the great hospitality of Dimitri and Lilia who invited us for dinner and offered an overnight at their place. We enjoyed the delicious Russian dinner (with young/new potatoes) which made us quickly forget about the boat experience.
After a nice evening we hit the bed to wake up early next morning for our next train ride to Ulaan Baatar.