Poland


Saturday 24th of December 2005

Place: Hengelo, The Netherlands to Bielsko Biala, Poland
Climate: In Hengelo above 0, but in Poland -30C
Health: Anit in good condition and Henk still recovering from the flu
Thought of the day: Today I meet my Anit again (Henk) Nice to have Henk by me again (Anit)
Henk did not sleep that much. It was a short night as for the whole family Pelster. Everybody got up at 3am in the morning. The plane from Dortmund to Krakow was at 07.20 hours and in order not to be too late we left Hengelo at 04.00 hour. To get all the luggage with presents in the car was quite some packing, but fortunately Alwin's car has a lot of space. The drive to the airport went smooth and we arrived in time. Anyway, parking, checking and walking to the gate with a big group and small children always takes more time than you expect and we arrived as one of the last at the gate, but still good in time. The flight with Easyjet was full. We all were focused on Liset and Susan, but Susan loved it and Liset was really quiet.
At about 9am we arrived in Krakow where Anit an Marek were already waiting for us. We (Anit & Henk) gave each other a very warm welcome and we were very happy to see each other again. Even after 4 months being together, 3 weeks without each other is a long time.

When we arrived in Bielsko Biala we first had lunch at Anit's home and then we dropped the family Pelster at the hotel. Henk and Anit spent the time on final preparations for Christmas Eve.
It was a busy evening with a lot of people, a lot of good food and a lot of nice presents. Highlights of the evening were the wonderful speech of grandpa and Susan being the Angel (assisted by Marek and Henk) to hand out all the presents.

Sunday 25th of December 2005

Place: Bielsko Biala, Poland
Climate: Cloudy and about -30C
Health: Anit and Henk in good condition
Thought of the day: Today for the first time skiing together with my niece Susan (Henk) I don't remember where we had such a nice winter in Beskidy Mountains for the last time (Anit)
After breakfast we all went to church. It was a fine celebration and also Susan liked it. After church we prepared ourselves to go to the mountains at Szczyrk for some walking and skiing.
Alwin, Anit, Susan and Henk went for skiing. Gerrit, Pauline, Halina, Ingrid and Liset wanted to go for a snow walk, but Liset was not so happy in the snow and for sure not on the sled that they decided to go to the bar quickly. The ski team enjoyed the snow very much. We were all surprised how well a 5 year old can ski. Susan has simply no fear. She even wanted to ski backward....crazy girl. She already skied according to Marek's motto: "Fuck the rules, ski extreme".
When we arrived home, Zbigniew had already prepared dinner which we enjoyed all together. Later we watched some pictures from our worldtrip.
Mon
day 26th of December 2005


Place: Bielsko Biala, Poland
Climate: Sunny, lot of snow and about -70C
Health: Anit and Henk in good condition
Thought of the day: With the whole family in a big horse sled (Henk) This was the first time I have been on such a trip and it was brilliant (Anit)
In the morning the Pelster family enjoyed the swimming pool in the hotel. At about 10.30 we had breakfast and after breakfast we went with 3 cars to the mountains for a beautiful trip with horse sled into the Beskidy Mountains. This was such a special and nice trip we loved it. Have a look at the Photos Part II "Poland 24 - 30 December 2005". 2 snapshots we just put here: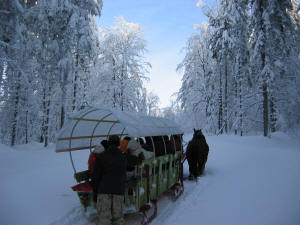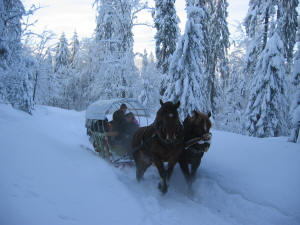 After the ride we arrived at a traditional Polish mountain house where we enjoyed fantastic warm pork ham with sauerkraut and Gluhwein. We had a group of musicians who played the traditional Polish songs.
After almost 2 hours we returned with the horse sled in the dark with torches. It was a very nice day.
Tuesday 27th of December 2005

Place: Bielsko Biala, Poland
Climate: Snow and -30C
Health: Anit and Henk in good condition
Thought of the day: Goodbye my dear family, see you in a couple of months (Henk) Time went so quickly, they must have come for longer actually (Anit)
Today we brought the family Pelster back to the Krakow airport for their flight back to Dortmund. It was quit busy at the airport, the check-in lasted longer that normally but they were on time. At the security check it was time to say goodbye. A big hug for everybody.
On returning to Anita's home we did some last shopping for our trip and start to get ready for our 2nd trip.

Wednesday 28th of December 2005

Place: Bielsko Biala, Poland
Climate: Snow and -30C
Health: Anit and Henk in good condition
Thought of the day: A few more days and off we go (Henk) I feel like going again on the worldtrip (Anit)

Snow keeps on falling. Today we did....well not so much, cleaned up, start packing and worked on the website. We still had to do pictures of India, Dubai and Kenya and especially Kenya from where we had a lot of pictures and had to select the most beautiful.


Thursday 29th of December 2005

Place: Bielsko Biala, Poland
Climate: Snow and -30C
Health: Anit and Henk in good condition
Thought of the day: A lot of snow and it keeps on falling (Henk) Poor grandparents, they always worry when we go somewhere abroad (Anit)

Today we already bought our train tickets. The best connection was from Katowice to Warsaw and from there we would pick a taxi to Warsaw airport for our flight to Zurich. Henk also set-up a short meeting in Warsaw, so to be good in time we decided to take the train from Katowice at 12.50h. We would arrive in Warsaw at 16.35h. This would give us time enough since the plane would depart at 19.35h.
This evening Halina joined us for the last last shopping. Now we should have everything! Later we went to Anit's grandpa and grandma to say good-bye.

Friday 30th of December 2005

Place: Bielsko-Biala to Katowice, Poland
Climate: a lot of snow and -30C
Health: Anit and Henk in good condition
Thought of the day: Bangkok here we come! (Henk) Unbelievable, we missed our flight! (Anit)

Henk worked last night till 5am on the website and only slept 3 hours. You could see that. Anyhow he would have time to sleep in the train and in the plane.

Looking out of the window we saw snow, snow and snow. Henk has never seen so much snow and it kept on snowing the whole day an night! This would mean delays with public transport. Good we had enough space for some delays with our train?!!?!?
After a delicious breakfast we grabbed all our stuff and Halina took us to the office of Higiena System where we could upload the last changes to our website. Also the insurance guy of Alliance came to finalize the last details for the travel insurance for Anit. After all this we said goodbye to Halina, and Marek brought us to Katowice. The road was terrible!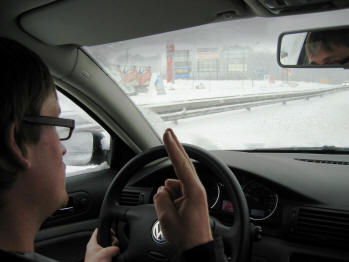 We arrived in time at Katowice railway station, said good-bye to Marek and went in to check our train. Everything was fine. No delay was stated and we had to wait just 30 minutes before departure. 20 minutes before Anit checked again and.....100 minutes delay. We heard that the train which had to come from Vienna still did not arrive at the Czech/Polish border. This looked really bad, but still within the safety time. In the mean time we waited for further information. And it got worse and worse. Now on the board was stated 150 minutes and a bit later 180 minutes delay!!! What to do? Probably the plane would also have some delay, so we might be able to catch it, but if the delay of the plane to Zurich would also be more than 50 minutes, we would miss the plane from Zurich to Bangkok. Anita started to call her mother if she could check faster possibilities to get to Warsaw, maybe by plane from Katowice or Krakow. Henk in the mean time start calling with Swiss airlines in Warsaw to see how the situation was and if he could change the date on the ticket. In between all this Anit got a phone call about a job opportunity in Dubai!?!?!

The lady from Swiss told Henk he could not re-route the ticket, but could change the date. If we would like to fly 31st of December we had to pay 385 PLN per person extra, since Swiss was outsourcing that flight to Thai airlines and if we would opt for flying on the first of January the change would be free of charge. We made up our minds, didn't want to take the risk of missing the plane in Warsaw or Zurich and changed the dates on our tickets to the 1st of January 2006. It meant: no Nappy New Year from Bangkok.
Marek was still in Katowice and we called him to pick us up again. What a start of the second part of our trip!!!!

Zbigniew and Halina were happy to see us again. A bit earlier than planned, but what can you do. Hakuna Matata as the Kenyans say.

Saturday 31st of December 2005

Place: Bielsko Biala to Warsaw, Poland
Climate: Still a lot of snow and -30C
Health: Anit and Henk in good condition
Thought of the day: Okay we are still in Poland, Bangkok has to wait a bit (Henk) I have never had such a strange New Years Eve (Anit)
Today we made our plan how to get to Warsaw. We decided to go today in the evening at 17.00h. We also changed our reservation in Bangkok, and reserved a hotel in Warsaw to celebrate the last day of year in Warsaw. We found an excellent deal at the Westin Hotel on the Hotel Reservation Service web-site (hrs.de) right in the centre of Warsaw. Only 64 Euro per night including breakfast. It's a German web-site, and already helped us in Delhi and now again in Warsaw.
Since all restaurants were closed in Warsaw, or only open for private parties we decided to create our own intimate New Year party. We bought some nice wine, salami, pickles, olives, cheese, baguette and of course a bottle of champagne!

Now the train left from Bielsko Biala and Halina brought us for our second try to the railway station. To make sure we would leave and of course to say good-bye and wish us a nice trip. She stayed and waved us a final good-bye until the train left.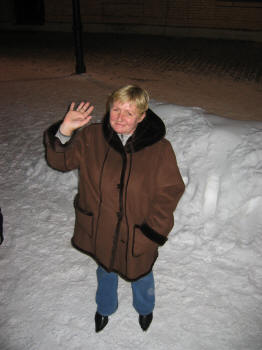 The train was quite empty, and arrived in Warsaw with only 5 minutes delay. From there it was only 5 minutes walk to the Westin hotel.
Also Warsaw was complete white. We had to walk trough deep snow. What an end of the year, considering we had planned it somewhat different.
At the hotel reception they did not receive our reservation yet, but no problem we got the room and after some negotiations even a nice one on the 14th floor facing the 'Old Town' of Warsaw. Perfect!

We went to our room, unpacked, and started to prepare our delicious snacks. In the mean time we also watched Polish television which broadcasted overview of the New Year parties in the whole world. Just before 12 we opened our bottle of champagne and watched the fireworks over Warsaw. HAPPY NEW YEAR, HAPPY 2006!
Sunday 1st of January 2006

Place: Warsaw, Poland to Zurich, Switzerland
Climate: Snow and 00C
Health: Anit and Henk in good condition
Thought of the day: Wakie wakie, it's a beautiful day (Henk) Finally our second trip begins (Anit)
We woke up about 09.00h and went for breakfast. We must say they have a very good breakfast at the Westin. After breakfast at 11.00h Henk had a short meeting and around 12.30h we checked out and took a taxi to the airport. From here all things went real smooth. Not many people on the airports and both planes in time. In Zurich we had to wait for 6 hours, but time passed quickly. We ate something in the lounge and used the Internet.

The flight with Swiss to Bangkok was completely booked. It was even slightly overbooked (10 people), but not everybody showed up. We sat in the last part of the plane in the middle row, which was okay. The airbus has a configuration of 2-4-2 and enough leg space. 2 planes was about 2 years old and also like with Emirates, everybody had his own TV-screen and could choose the program.
At 22.25h we took off. An evening flight is fine, but if you take a late one like we did and you fly with the time, you have a risk of jetlag. In the plane we watched TV until 01.00h or so and then tried to sleep a bit. Then the morning comes in only a few hours and it gets light in the plane from the bright sun. Than the crew starts to serve breakfast and it means end of the sleep. Just a couple of hours later you arrive in Bangkok and it's already 15.30h in the afternoon, so somewhere some part of the day is missing. Actually you miss 2 parts; no real night and no midday. But ok, we can't complain, after 10 hours flight we are in completely different world.