Nepal

Monday 19th of September 2005

Place: Zhangmun, China to Kathmandu, Nepal
Climate: sunny and 27 0C
Health: Anit and Henk in good condition
Thought of the day: Let's see what Nepal brings us (Henk) Such a big difference in people, no more women in Tibetan dresses but in Indian saris (Anita)
In the morning we had to go separate to the bathroom (like last night) since our door did not lock properly. Also interesting was, that to get to the bathroom we had to go one floor up and through the restaurant and then one more floor up to get there. Crazy, isn't it? Well after all these weeks traveling you get used to everything.
In the restaurant we met a big group of Austrians and Germans and they came on motorbikes (an Enfield from India) from Katmandu and were on their way to Lhasa. With the jeep we already thought it was crazy, but on a motorbike?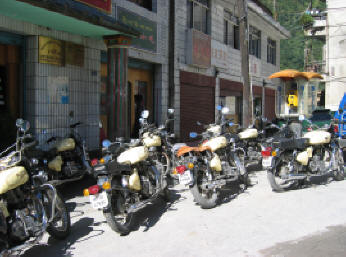 After breakfast we packed our stuff, which increased enormously since Lhasa and walked down to the border. On the way down, we were continuously 'attacked' by people who wanted to change RMB into Nepalese Rupee. Our advice is to not do that, but change in the hotels or like we did in a good restaurant and check your notes. They say, there is a lot of fake money around here.
At the Chinese border we had to wait one hour (lunch break), but later it went quite smooth. From Zhangmun (China) to Kodari (Nepal) is 8 km down the road, so we took a kind of a taxi down for 2 Euros.
At Kodari after getting out of the taxi we were already attacked by the next guy who offered us a ride in his jeep to Kathmandu for 50 US$. We told him this was too expensive and we would go with the local bus. Anyway he escorted us completely through the border control with Nepal, which is really smooth. We must say our passports are getting quite full now with all these stamps and visas.
When we reached the buses, there was a bus to Kathmandu, but it only left at 14.00 hours so 1.5 hour waiting. We decided to do it, but didn't feel comfortable when we were in the bus. The bus was small and people were starring at us. Than, as from heaven, Harry came. Harry???? Yes Harry! Harry is a Nepalese gentleman who has a jeep and he had already 2 other Nepalese guys in his jeep. He asked us if we wanted to join him. He would only charge Nepalese price, 500 rupees per person (= +/- 5 Euro). We were in doubt, 3 strangers in the car and the stories in mind about Maoist people who fight against the government. What to do? Anita said: "if you do us any harm I will call police" and "Are you a Maoist?" Nepal is the last country where you can count on police actually. And you know, we were scared, because you see the people for the first time and you don't know what they are planning… After a while of hesitation we thought well, Harry looked really nice and we took our chance and changed from the local bus to Harries jeep. It was an excellent choice.
Along the way, Harry explained us all about the scenery and Nepal in general. Also the 2 guys (Dinnis and Wow) turned out to be normal businessmen and spoke good English like Harry. We made a few stops to buy drinks, have a piss and Dinnis and Wow had to buy some fresh fish for their families. We had a lot of fun together.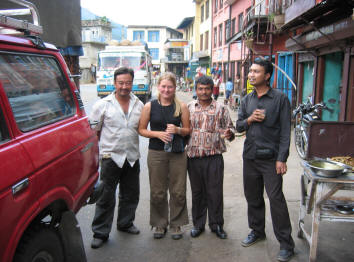 Shocking was along the road all the military check points. Due to the Maoist activists the military is controlling certain strategic points.
Arriving at Kathmandu Harry first dropped off Dinnis and Wow and then he brought us to the Kathmandu Guesthouse (the nicest according to the LP). We didn't like the price and Harry brought us to the Potala Guesthouse where they had double rooms with big shower for 10 US$ per night. This was much better. We thanked Harry, said goodbye to him and checked in.
The hotel was in the Thamel area full of shops and restaurants. We decided to go to for a dinner to Dolce Vita, a nice Italian restaurant. The food was delicious. Welcome to very touristic place. Yes, sometimes this is also nice.

Tuesday 20th of September 2005

Place: Kathmandu, Nepal
Climate: sunny and 27 0C, later on rain and thunderstorms and no electricity
Health: Anit and Henk in good condition
Thought of the day: Rafting (Henk), Nepal people are very friendly (Anita)
Today we went out to look for a good rafting trip. After visiting most of the agencies recommended by lonely planet we came to Raging River Runners. They offered a 3-day tour on the Kali Gandaki, a river offering many rapids of class 3 – 4+ (5 is considered to be for the experienced rafters). Should be enough excitement. Also good was that we would end up in Pokhara, which was our planned next stop for trekking in the Annapurna area. The rafting would be from 24-26 of September and we would leave 23rd of September at 06.30h from Kathmandu to Pokharna.
After checking a few more agencies and having lunch we decided to go with Raging River Runners. Also the price of 80 US$ per person including everything (food, tent, boat, etc) seemed okay. Also nice was that they make a video of the raft. We will show you when we get home.
The rest of the day we did some shopping and…Henk bought a custom made suit! Buying a custom made suit means you have to come back for measurement and for trying on. The price for this including custom made shirt and tie was 75 Euro. We choose a nice black cloth with blue stripes.
We also bought 2 DVD's: 7 Years Tibet and The Everest and went to the hotel to watch them. Already freaks!?!? Good night!

Wednesday 21st of September 2005

Place: Kathmandu, Nepal
Climate: clouds, rain and later on sunny and 27 0C
Health: Anit and Henk in good condition
Thought of the day: Back to the suit maker to meet the tailor (Henk); We are still in the Monsoon period; hope we get nice weather for rafting (Anita)
This day we planned to work hard on our website, since we still had to put photos on it from Beijing and we were already 15 days behind with our diary. First to the tailor to take Henk's measurement. Not so easy since he lost for sure 7 kilo's in the last few weeks.
All went fine and we went to the Internet café to do our job for the rest of the day.

Thursday 22nd of September 2005

Place: Kathmandu, Nepal
Climate: sunny and 27 0C
Health: Anit and Henk in good condition
Thought of the day: Kathmandu is a pleasant place to stay (Henk) I didn't suppose this place was so popular with Polish people (Anita)
Today our main tasks were pre-fit the suit of Henk and work further on the website. We had some problems (also yesterday) to pick-up e-mails. The connections here seem to be slow and we had to pick up more than 7 MB.
Some things about the Thamel area of Kathmandu. This is the main touristic area of Kathmandu and maybe even Nepal. Here are only shops, hotels, restaurants and shops, hotels and restaurants all focused on the tourists. The problem now is that since the political instability tourism dropped to extremely low levels and most people have no or limited business. There are tourists, but the streets are relative empty.
What are funny/crazy are these narrow streets here; you must be careful not to be run over by motorcycles, or taxis or rickshaws. We couldn't understand why they don't make this a walking zone. Anyway many people on the street come after you or ask you "You want to go trekking", "You need a taxi", "Come ride with me", just to try to make some business. That's quite irritating but if you realize that the locals have no other income, you feel sorry for them and simply give a kind "no" answer.

Friday 23rd of September 2005

Place: Kathmandu to Pokhara, Nepal
Climate: sunny and 27 0C
Health: Anit and Henk in good condition
Thought of the day: Finally some real extreme sports, ...Rafting (Henk) I definitely don't like traveling by bus especially with these narrow and serpentine roads in Nepal (Anita)
Today we woke up at 5.30h in order to get at the Raging River Runners office at 6.30h.
Today was the first day of our rafting adventure. At the office we met our group; most of the people were from Israel and there were supposed to be a couple from UK. We knew it already because we checked the registration forms beforehand to see who was going to be our team mates. On the way to the bus we met already the British couple and also one couple from Israel. We made a stop at the bakery to buy some breakfast for later in the bus. With some delay (it started already good, the bus got a flat tire) we finally left Kathmandu to Pokhara. On the way in the bus we got to know Damian and Kit from UK better as well as Maya and Noa from Israel and we decided to go together on one boat/raft. Damien in the mean team teamed up with Deepak (one of the guides) to be our guide/instructor on the raft). After 5 hours drive we came to Pokhara and were directed to our Milenium Hotel. The place was terrible smelly and full of different kind if cockroaches (Anit was so happy about this). Luckily, it was only for one night since the next day we were supposed to leave for the rafting. In the afternoon we got the group information about our rafting trip and afterwards we went for the dinner together with Kit and Damian. Since they already traveled in India they could share with us some experience and also we advised them some nice places in China (they planned to go to China after the rafting). It's actually very nice when you meet other travelers because you get to know interesting places and can also share your adventures with others.

Saturday 24th of September 2005

Place: from Pokhara to Kali Gandaki river, Nepal
Climate: sunny and 30 0C
Health: Anit and Henk in good condition
Thought of the day: I hate bad hotel rooms (Henk) I love rafting! (Anita)
The trip to the starting point of the rafting took us about 3 hours by bus. We arrived at the river and unpacked the rafting stuff. We had two busses full with people and rafting equipment. In total there were 2 cargo boats, 5 rafting boats, 40 tourists, 17 staff (guides, cooks, and safety kayakers). When the boats were ready (we had to pump the up ourselves) we got instructions about the safety precautions like life vests, helmets, luggage waterproofed bags, rescuing from the water, etc, etc. In meantime the lunch was prepared and before our first rafting we enjoyed a good lunch. Anita was happy this time because all food during the rafting was vegetarian. And Henk was positive surprised since it was good prepared and very delicious.
When we cleaned up after the lunch we took off for the first rafting. It was really great. From our guide, Deepak we learnt and practiced the commands.
There were the following persons in our boat/raft: Kit and Damian (British couple), Maya and Noa (Israel couple), one guy Arje and one girl Miche from Israel, Deepak our instructor and of course us.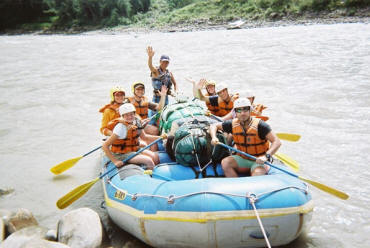 The river was rough, the waves were high, but our raft passed smoothly all of them. Anita who had never rafted before imply loved it and wanted more and higher waves. After two hours rafting we arrived at a beach-side along the river where we put up our camp. It took some time to unload the boats. Since there is no road along the Kali Gandaki river, all gear must be taken on the rafts, all put well in dry-bags and barrels and well tight with straps and ropes to the rafts. At each camp we unloaded and loaded all the stuff from and on the rafts. We helped the staff as much as we could. There were however people who preferred to rest and wait until the camp had been raised. Yeah, what can you do…there was no obligation to help though. To help and do something was simply fun to do.
The Nepali staff was very friendly and you could see they had a lot of pleasure in their job. By the way, they call the guides from Raging Rivers Runners "tigers" and this is probably because off their look: most of them have long hair. Without hesitation we can say, that on the river, they are like the real tigers fighting with the rage water. They are so good and we were really surprised by their professionalism.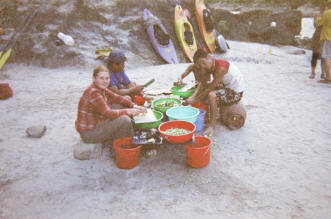 The camp on the beach has kitchen, a dining section with tables, plates, cups an cutlery, washing system of 5 plastic bowls with washing detergent, net for drying the dishes, a bucket with water an soap to wash hands, section where all the tents were raised and a toilet. There was drinking water taken from the waterfall and purified by iodine. The food was coming from Kathmandu (cheaper than in Pokhara). There were candles around the camp to make some light and the fireplace to make that evening even cozier.
In the evening we had a dinner all together and nice chat with the co-rafters and the staff. The sound of running water nearby made us fall in sleep. The sky was full of stars and we could see the Milky Way. There was also one big light coming from the surrounding hill: a big brother's eye…the Nepali army was watching us constantly.

Sunday 25th of September 2005

Place: Rafting on Kali Gandaki river, Nepal
Climate: sunny and 25 0C
Health: Anit and Henk in good condition
Thought of the day: 2nd day always better with more action! (Henk) I thought I would die…I felt I was at the border between the life and death (Anita)
Today we got up around 7am and we saw the staff already working on our breakfast. Nepali people tend to get up very early.
We put on the clothes (still wet from yesterday), put down the tents and helped with cleaning and loading the boats. After breakfast we continued packing the stuff and finally all seven rafts were ready to go. First thing we had to do was to get to the other side of the rage river and to stop at the shore. The guides had to get off the rafts to see the rapid and to agree on the best way to go through it. However, the last boat didn't manage to go across the river and was taken by the stream directly to the rapid. In the raft it doesn't all depend on the guide. We talk about real teamwork here. When all paddle at the same time, your raft has good speed and great strength and together you can handle the river (more or less). When not working together or more power on one side, it is difficult to control the raft and you go with the flow. The guide of this boat decided to go for it, what was actually quite risky. Normally the guides all stop before the rapid to estimate the danger and agree on the way the raft should go. Fortunately, the boat went through it without big problems.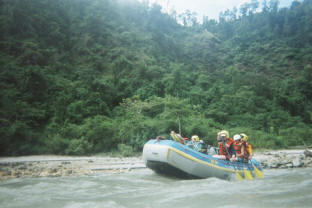 Now the rest also successfully passed this rapid. The weather was great, the river rough. We had a lot of energy and actually a very good power in our boat. Deepak made sure we had a lot of fun by directing the boat to the wildest waves…We hit them with a great power. While paddling you don't see much of the way the raft is heading to…(except for the guys sitting in front of course); you are mostly concentrated on your paddle to make sure you are in the same pace like the person paddling before you. We knew, however, when the great wave was coming…when Deepak was shouting "faster", "go faaaaaaster" we knew the extreme moment was coming…and then shortly afterwards the huge confrontation between the wave and the raft…who is going to win this struggle…The finish is: either your raft has a good speed and power and you hit and cross the wave, either your raft hasn't got enough speed and power and it does exactly what the wave wants......
We passed the Little Brother and Big Brother rapids. The next rapid didn't look so bad but when we were very close to the big waves we suddenly saw that the cargo raft got stuck between the waves just in front of us and for us there was no way to escape from it. We went down with the full speed directly under the backside of the cargo boat. The front side of the cargo boat was already out of the wave so it moved forward and the big wave hit us with a huge power making our raft flip on the right side. It all happened so quickly so we all were under the water and under the raft, trying to find our way up. Fortunately with the life vest you get above the water quick, although sometimes it might look ages.
(Anita) I was sitting on the right side and got stuck under the flipped raft. I was shocked, the water was terrible cold, I felt I was covered by the raft, I couldn't find the way up, I didn't see anybody, I was alone and there was complete silence…I was out of breath because I didn't expect falling into water…somewhere I saw a paddle and I caught it because they told us to use it when rescuing the others; I thought somebody passed it to take me out…but the paddle was just floating in the water…alone…same as me…I said good-by to the world and I was at the point of opening my month and swallowing the water…I almost agreed with the nature to give up…and than, suddenly somebody pulled me up and I saw the light! And it was Henk who caught me! I started to breathe again. Than I saw the other raft which actually came to rescue us....Somebody from this boat pulled me on the boat…I was saved! Henk was pulled as well and I saw Kit and Arje also on this boat. I suppose the others were saved by the safety kayaks. Deepak and Noa managed to get on our flipped raft. With the rescue boat we came to shore where our raft was already turned back and we all could come back to our raft. We were not hurt, only Miche got hit by the safety kayak in her ribs during the rescue action, but later she was fine.
(Henk) In general the shock was, that it all went so quickly, we bumped into the raft in front of us and flipped. I was also under the raft, trying to find what was up and down. When I saw the sun again I looked for Anit. She was coughing and spitting water, but the life-jacket kept her on the surface. I grabbed her and brought her to one other raft, where they pulled here onboard. When I wanted to go back to our raft to help to flip it back, they didn't allow me and I also was pulled on the other raft. All went fine, but as I said things went quick and the the river can get really mean!
In the next rapid we actually lost again with the wave… and this time it was our mistake because we didn't have enough power in our boat on the right side (or too much on the left). The left side was faster mainly because of Damian and Kit who sit in front and paddled very good together. Kit used to be a rower by the way J
The wave flipped our boat for the second time. Being aware of this lack of power balance, just before the big hole Deepak still tried to turn the boat a bit out of the big hole, but it was too late…We all landed in water again. This time, however, we had "experience" of falling and somehow we felt more confident, or at least we knew the feeling from the first flip. And Anita was not under the raft this time; she was pulled up to the surface immediately by the life vest. We hold on the raft and floated together to the shore. Kit and Noa were rescued by the safety kayaks – good job guys! That was not the end yet. The stream was strong and the raft continued floating down the river, up side down with most of us along side. Since we still were in water and some paddles were lost it was very dangerous if the raft would go into next rapid. We had to stop it. The guide of the other raft threw us a rope to attach our raft to theirs. Henk was holding this rope. In the meantime Deepak helped people to get back on the boat. Maya was almost on the boat but she felt down back. The people from other raft helped her out but, we don't know why, they opened her life fest! (some people have no brain in heir head) Then, nobody really knows how it happened; she was still in the water and she got the rope under her neck. It looked scary because she could have been choked. But then suddenly Deepak saw her and helped her out. He had a knife so he could cut it if necessary. When pulled out on boat, she was scared like a hell but everything was fine. We all were rescued again!
Yes, there was enough of adventure this day. Henk was joking of course about the "hattrick"; the raft should flip for the third time! (basterd) Deepak knew we all had kind of enough and he directed the raft further in the easier way. Besides us, there was another raft that flipped. The rest didn't and they looked at us a bit jealous J In the afternoon we passed the big waterfall and all rafts enjoyed the nice shower… as it was not enough water yet…J
When we arrived at the campsite we all were tired. We helped to unload the rafts and raise the camp. As usual we got a tasty meal and we rested together chatting by the candlelight.

Monday 26th of September 2005

Place: Rafting on Kali Gandaki river, Nepal
Climate: sunny with some clouds and 25 0C
Health: Anit (scared) and Henk in good condition
Thought of the day: Time to step in and reorganize the sitting on the raft for equal power left and right (Henk) I hope we don't flip today; they say the third day is the easiest but we still have four rapids to go… (Anita)
We woke up at 6.30 again. As usual we put the tents down, we had a breakfast and we loaded the rafts again. The weather was very nice and we all were prepared for the third day rafting. Maya didn't want to flip; Anita said she would go with the cargo raft ;) since they always take the chicken way J; Noa didn't say a word, he was scared by the flips of yesterday and he didn't want to sit in front any more, Henk and Damian joked about the flipping today… and Deepak smiled…
The river was indeed kind a bit calmer and the rapids were not that wild. The other raft (our rescue raft) tried to flip for fun but they failed. At certain moment Deepak asked us whether we wanted to go through the big wave and of course Henk and Damian said: " yes, let's do it". The girls said nothing but only paddled harder that usual J
This time the boat had a good speed and we overcame the big wave! We had so much fun and we were happy we didn't flip. Deepak said later to us, that he was very happy we agreed to go through that wave – looks like he likes to go for extremes – he had a lot of fun with us.
Later this day we entered the peaceful part of Kali Gandaki River and we simply enjoyed the jungle scenery. It was gorgeous. Some of us did body rafting or just swam along the raft. The water however was freezing. After 2 hours we arrived at the dam, the end point of our rafting adventure. We helped to unload the rafts again and had the last lunch together. Later on we got on the bus and we went back to Pokhara.
At 8 o'clock in the evening we were supposed to gather again to watch the video from our rafting.
Advised by Kit and Damian, we took the same hotel they stayed in the last time they were in Pokhra. Also Maya and Noa joined us. At 8pm we went to see the video and afterwards we invited Deepak for the dinner. We thought it was nice to finish the rafting all together in a nice restaurant. During the dinner he told us amazing stories about his adventures as guide including the deaths on Kali Gandaki River. Anita was happy she didn't hear it before the rafting.

Deepak, thank you for the great time we had together. You scared me like the hell, but it was the best adventure I ever had in my life (Anita).

Tuesday 27th of September 2005

Place: Pokhara, Nepal
Climate: sunny and very hot, around 30 0C
Health: Anit and Henk in good condition
Thought of the day: Nice hotel, nice room, good bed, time for some rest (Henk); Today I want to rest! (Anita)
Today the first thing we did was sleeping
We were quite tired after the rafting and we decided to relax a bit today. After the late breakfast, we went to organize the permits for Annapurna Conservation Area. If you want to do some trekking in Himalaya, you need this permit. It costs around 20 euro per person. (Anita) It took me a half an hour to walk to the ACAP office, Henk decided to rent a motorbike. I walked down the city and every second somebody greeted me "Namaste".
On the way I passed a couple of army checkpoints where the army guards the city against the Maoists. That's a strange feeling when you cross them and you see these guns directed towards you. You need to get used to it in Nepal. The army checks all vehicles and look at the passers-by quite suspiciously. They are looking for Maoists.
When I got to the office, Henk was not there yet. He got lost. After a while however I saw him happy as a baby on his Yamaha chopper motorbike. He convinced me to have a ride and actually we spent the afternoon riding together on that motorbike around the lake. It was so nice. Later this day we developed the pictures from rafting and the rest of the day we spent on updating the website.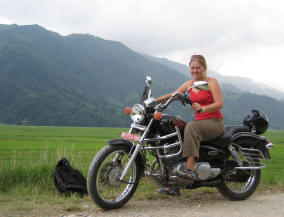 It's really nice, renting a motor bike only costs 4 Euros for half a day, including fuel and you do not need a license. The bikes are maximum 120 cc and not so big, so with my Kreidler experience an easy bike to ride.

Wednesday 28th of September 2005

Place: Pokhara, Nepal
Climate: sunny/cloudy and very hot, around 30 0C
Health: Anit and Henk in good condition
Thought of the day: Last preparations for the trekking in Annapurna! (Anita) Nepal is the land of trekking, so let's do some trekking! (Henk)
Today again a lazy day. The last preparations for trekking to the Annapurna base camp.
Are we going to repeat our altitude sickness? Not really, because we are going to climb gradually 5 days up to 4500m and on the way the altitude is around 2000 and 3000 meters. Just in case we take the oxygen since we still have some left form Everest.
The whole trek takes 8-10 days. We both love mountains so we are looking forward to this adventure. We leave the main luggage in Pokhara and only take with us the daypacks. We may meet the Maoists on our way, but they only ask tourist for donations, for the rest they don't do any harm. They even give you a receipt that you paid, so you don't have to pay again J Smart, isn't it? Well of course they ask you for a donation, but it is wise not to refuse. When refusing the chance is 100% they take everything from you. Also it is a bit strange. This asking for donations is a kind of business, but the Maoists claim they support the communism? Anyhow when meeting, better to pay.
Nepal is a great place. We love it already and we know for sure that we will come back here one day. We still have to do the Bote Kosi rafting – the wildest river in Nepal and one of the coolest in the world. This time rafting was not possible because of high water after the Monsoon. The season for Bote Kosi begins mid October. Kit and Damian (our friends form rafting) want to come back to do this rafting as well. Maybe we could agree on same date? Would be fantastic, guys!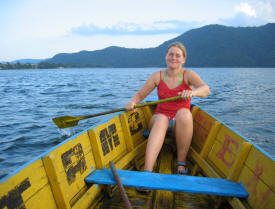 In the afternoon we decided to take a boat on the Pewha Lake. It was hot so we also took a short bath in the lake. It was fantastic!

Thursday 29th of September 2005

Place: 1st day of trekking from Pokhara to Phedi, Damphus, Tolka and Landruk, Himalaya, Nepal
Climate: sunny and hot, around 27 0C
Health: Anit and Henk in good condition
Thought of the day: Why do they build stairs in the mountains? To make it easier? I would prefer a normal walking path… (Anita) It's gonna be a long walk (Henk)
Today we got up early in the morning. At 6.30 we had a breakfast at our hotel and at 7.00 we left hotel to Phedi where the Annapurna Base camp trek starts. We first have to register and show our entry permits at the ACAP (Annapurna Conservation Area Project) office. We decided to have no guide and no porter to fully enjoy freedom and do what we like. Normally people take porters who carry their luggage because it's easier and costs only around 3 euro a day. We, however, after not being satisfied with a guide in Tibet, decided to go on our own. And it was a very good idea afterwards!
The Annapurna base camp is an easy trek with regard to accommodation and food facilities. You only need a good map and limited luggage (we only had daypacks) and you can do it by yourself!
We started from Phedi and walked 2 hours the steep stone stairs up to Dampus village. It's a nice warming up exercise.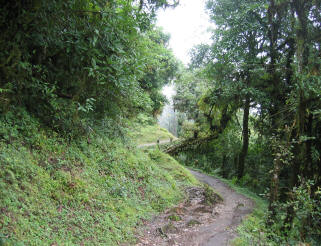 We had a lot of energy so we continued further up to Tolka and finally arrived in Landruk where we decided to stay for the night. It was around 5pm.We found a lodge for 50 Nepali Rupees what means 50 eurocent / 2 zloty J. In the lodge we met two Swiss guys who were also heading for the Annapurna base camp. After shower we had dinner together with Swiss guys and went to bed quite early to reload the engines for tomorrow.

Friday 30th of September 2005

Place: 2nd day of trekking from Landruk to New Bridge, Chomrong and to Sinuwa, Himalaya, Nepal
Climate: sunny and warm, around 25 0C
Health: Anit and Henk in good condition
Thought of the day: Why do we have to go the whole way down the stairs to the river and than climb the same altitude again?! So much effort for nothing! (Anita & Henk)
Today is the second day of our trekking. Legs are already warmed up and the motivation is there to reach the ABC (Annapurna Base Camp) as quickly as possible. Normally it takes 4-6 days to get to the top. The trek is not easy because of the steps and continuously going up and down. There are many hills you have to cross cut by the rivers so you often have to climb up and than go down to the river to climb another hill.
On our way, besides the Swiss guys we met a group of 5 Belgians, 1 American guy with the porter, one German lady called Anita also with the porter and of course we were following Maya and Noa (friends met on the rafting). They did the same trek but left one day before us so we wanted to catch up with them as soon as possible. However, we didn't meet them this day. We hoped to see them at the top. At New Bridge we went to the hot springs. It was only 15 minutes the information board said… The Nepali 15 minutes… It took us 30 minutes down and 40 minutes up and we had to go the whole way down to the river! And just before these hot springs by New Bridge we climbed 1 hour the steep stairs up! Ok, we lost 2 hours and we lost the Swiss… they were already 2 hour ahead, no way we would catch up with them any more. Of course, you may say, it's not a race, but it would be nice to manage the same distance as they did! Anyway the hot springs where quit nice. There were 2 and they were more or less small swimming pools and the water was not hot but of fine temperature. It felt good and was definitely worth walking the 2 hours for.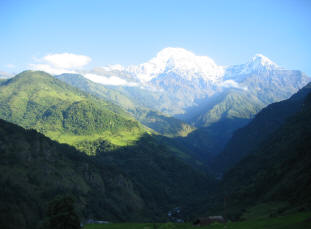 The second day of the trekking was the hardest one because of the tiring climb up to Chomrong (all steep stairs). When we finally reached Chomrong it was 3pm. We had a late lunch there and decided to continue to Sinuwa (2 hours). It was hard (1 hour steps down and 1 hour steps up). Just before 6pm (when it actually gets dark) we arrived at Sinuwa, found a lodge (again for 50 rupees), had hot shower, had some soup and potato chips and went to bed. We were tired. The legs hurt. Stairs are killing your knees. But we had a room with glass walls around (kind of veranda) and we were promised to have a splendid view of Machapuchre (Fish Tail) in the morning. Ok, but where are the Swiss??? They must have gone further. Maybe we meet them tomorrow?

Saturday 1st of October 2005

Place: 3rd day of trekking from Sinuwa to Bamboo, Himalaya, Deurali, Machapuchre Base camp, and to Annapurna base camp, Himalaya, Nepal
Climate: in the morning sunny, in the afternoon fog and much colder, cold and foggy in the evening, from 23 - 10 0C
Health: Anit and Henk in good condition
Thought of the day: Under the motto: Where are the f…. Swiss? (Anita) We keep saying to our selves: "It is not a race" (Henk)
When we removed the curtains, there she was! A splendid view on Machapuchre, exactly as it was promised by the lodge owner. We got up at 5.30, had breakfast and left Sinuwa at 7.00h. It should not get more crazy! We were happy we did the stairs yesterday, since from Sinuwa the trek was more flat and the stairs were only occasionally. We walked fast as we felt very powerful.
The scenery of this 3rd day is the most beautiful, you go through deep forest, see the river along side and see fantastic waterfalls. We even met a monkey and herd birds everywhere.
The weather was good, we kept on walking until Himalaya village where we took lunch and had 1 hour rest. From Himalaya it was still 4 hour to reach the top. We went on until we reached the MBC (Machapuchre base camp). This is a famous Polish base camp due to Polish alpinist Kukuczka who used to sleep there before climbing the 8000m Himalaya peaks. He made them all but very unluckily got lost in the descent of the last 8000m peak and died. The owner of the camp could even say some Polish words. We took some drinks there and went off for the last 2 hour walk to ABC. First we didn't think about reaching the top in 3 days but now it was so close…and of course the mystery stayed unsolved…where are the f…Swiss.
Late in the afternoon, after 1 hour and 45 minutes walk, we saw, hidden in the fog, the first lodge of the ABC. Yes, we made it! And you know what? The Swiss were there! They were actually sleeping (they must have been tired…; so were we when we reached the top). But we couldn't resist waking them up J and saying: hi guys, how are you doing? They couldn't believe their eyes. That was good. Or we were good! Victory on yourself feels sweet.
It was very nice there to sit together in the dining hall, had meal and chat a couple of hours. There were also one British and two Sweden tourists there, guides and porters. It was a very pleasant evening.
The temperature up there in the night drops down to zero now. It was cold so we put on all clothes we had with us, covered ourselves with a sleeping bag and the blankets from the lodge. The facilities at ABC are fairly basic so we limited ourselves to only brushing the teeth. Next morning we have to get up at 5.30 to see the sunrise at the ABC. Goodnight.

Sunday 2nd of October 2005
Place: 4th day of trekking from ABC back down to Himalaya, Nepal
Climate: in the morning sunny, in the afternoon fog and much colder, cold and foggy in the evening, from 25 - 10 0C
Health: Anit and Henk in good condition
Thought of the day: And today down?, one part I don't like (Henk) Himalaya are nice but when you are really inside them they might be scary; I think I understand now what they mean by "Mountains are the temples where I practice my religion" - it was written on the memory board at the ABC (Anita)
KukelleKUUUUUUUUUUUUUUUUUUUU, yep, there it was again the rooster of Henk's phone ready to walk us up at 05.30h in the morning. More people shared our idea and we all went with some coffee and cookies to the place from where you could see the sunrise the best. ABC is a fantastic place. The high peaks covered with eternal snow are all around you. It is so beautiful! We enjoyed the scenery and the sunrise (not so spectacular) and after breakfast we decided to hike up further. Our plan was to get closer to the glacier to touch the snow. All around the camp you could hear the glaciers crack, making noise and here rocks falling. The way up was quit easy. It was like grassland filled with rocks. Behind that we had to go down and pass one small glacier. From there a bit climbing and watch out that you would not slide yourself. We got real close to one of the bigger glaciers like 20 meters away from the snow, but everything was so moving and rocks where falling it was saver not to go on and to go back.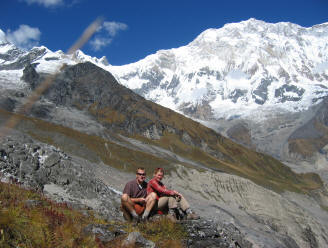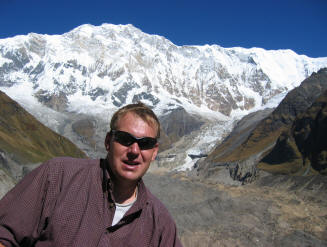 We arrived back at ABC around noon. We had some drinks, packed our stuff and headed down. Strangely enough still no sight from Noa and Maya. They must have first gone to Poon Hill? Then at Bamboo, just after MBC we met them. It was good to see them and we decided to stay at the same place for the night. During dinner we exchanged our walking ways and found out we missed them on the first day in Landruk. They stayed in a lodge 100 meters further than our one and left later that morning. It seemed all hilarious. In the evening we played some cards and went to sleep.

Monday 3rd of October 2005

Place:5 th day of trekking from Bamboo to Chomrok, Nepal
Climate: sunny and clouds, 21 0C
Health: Anit and Henk in good condition
Thought of the day: We almost met everybody (Henk) It's a pity we have to get down the same way; we could choose another one but there are Maoists there and we don't want to pay them (Anita)
In the morning we all had breakfast together.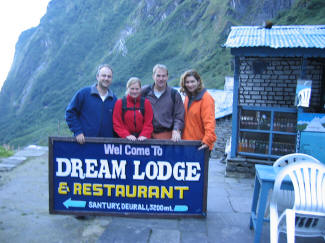 The lodge was not so nice, so no shower. Henk should have brought some more clothes since it all got a bit smelly. After breakfast we said goodbye to Noa and Maya, wished them a lot of luck with their new opportunities in San Francisco (probably we'll meet there again!). Down went quit smoothly and we reached Sinuwa at late lunchtime. The weather got worse, but we headed further to Chomrok as planned. Our last part to Chomrok we had to do in rain, but with our coats big enough to cover the backpacks it was all okay. The worst part was the stairs up. Henk counted them: 2243 steps! Arriving in Chomrong, we found a decent lodge with good shower. It is so great to take a shower after whole day walking.
We hit the sack quit early and planned to sleep a bit longer next morning.
Goodnight!

Tuesday 4th of October 2005

Place: 6th day of trekking from Chomrong to Naya Pul and Pokhara, Nepal
Climate: Nice morning, but with clouds later on more sun, 23 0C
Health: Henk in good condition, Anit problems with her knee
Thought of the day: Good to be almost down (Henk) Hope we get down before it gets dark (Anita)
We spend some nice time in the morning sitting on the veranda drinking coffee with some cookies. Life can't get much better!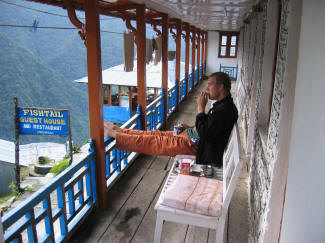 After breakfast (nice pancake) we headed further down. We didn't make any plans how far to go, but we decided not to go via Poonhill (why pay 15 US$ per person to the Maoist) and the best scenery we had already seen at ABC. We also didn't want to take the stairs up to Landruk, so we diced to take the path along the river further down. We where told it was a path without a lot of stairs and it was. Again the he scenery was beautiful and we hiked through more remote places. Both of us wanted to go down the whole way and sleep that night at Hotel Mandap in Pokhara. Anit got some problems with here knee, but though as she was she walked on. The pain luckily didn't got worse.
Later that evening at around 18.00h we reached ... and found a taxi back to Pokhara. A 2 hour drive for 900 Rs. The owner of our hotel was surprised. Back already? Of course he had a room for us. We took a nice shower and fell in a deep, deep sleep. It was a great trekking adventure!

Wednesday 5th of October 2005

Place: Pokhara, Nepal
Climate: Clouds and rain, 24 0C
Health: Anit (knee already much better) and Henk in good condition
Thought of the day: Let's buy some souvenirs from Nepal (Anita) Planning for our trip to India (Henk)
Today we did some shopping, picked up e-mails and worked on our web-site. We organized our traveling to India and booked a 2-day stop at Chitwan national park. We had an excellent lunch at Carolines bistro in the garden. Those are more or less the things you do after 6 days walking in the mountains.

Thursday 6th of October 2005
Place: Pokhara, Nepal
Climate: Clouds, 24 0C
Health: Anit and Henk in good condition
Thought of the day: Not good, we have to carry all our stuff to India (Henk)
Today we did some more shopping and we also found out that it is terrible expensive to sent goods from Nepal. It would cost us about 250 US$ to send 10 kilos. That's too much and we decide to take all with us to India. There you have more possibilities and it should be much cheaper.

Friday 7th of October 2005
Place: Pokhara to Chitwan national park, Nepal
Climate: Sunny, 30 0C, humidity increasing as we where going south
Health: Anit and Henk in good condition
Thought of the day: I hesitate whether it was good idea to go to this park as we heard some bad stories (Anita) Mixed, since we heard good and bad experiences about the park (Henk)
Early in the morning we left our hotel by taxi to the bus station. Yes, we would take a bus again, our favorite hobby during traveling (not really). They sell you a tourist bus ticket (was all included in the trip), but you end up in a local bus for 80% filled with tourists, but it stops frequently to pick up more passengers and more and more and more. How much people anyway fit in such a bus?? Additionally the driving in this country is more than crazy. Our advise when traveling overland: TAKE THE TRAIN, it's more relaxed and more safe. Unfortunately in Nepal we did not see any train.
After 8 hours bus travel (5 was said) we finally arrived at the bus station where the jeep of the park was waiting. We where together out our lodge with 2 Swedish guys (Chris and Par) and Rhys from the UK. We had an okay dinner in the evening and after that a traditional dance show. Anit enjoyed the dance show very much.

Saturday 8th of October 2005
Place: Chitwan national park, Nepal
Climate: Sunny, 30 0C
Health: Anit and Henk in good condition
Thought of the day: Washing Basanti was definitely one of the best adventures in this trip (Anita) Elephant riding today? (Henk)
At 07.00h we had breakfast and after the breakfast we split up. The 2 Swedish guys went for the elephant ride and we first took the canoe tour and a safari-walk in the park. Our guide claimed he saw 2 crocodiles during our boat tour, we didn't, but the tour was nice and peaceful.
The walk in the jungle was extra-ordinary. We looked for some animals, but only saw a group of monkeys. Anyway it was a pleasant walk and we also saw a lot of different birds.
After our return to the lodge we went for elephant washing! elephant washing??? Yes. It was so fun. We got our elephant from the stable, took it to the river and start washing her. Our elephant Basanti Kali (35 years) also gave us a shower! Fun was when she went completely under water and then she put her trunk above the water to get air. Just look at all the pictures we took.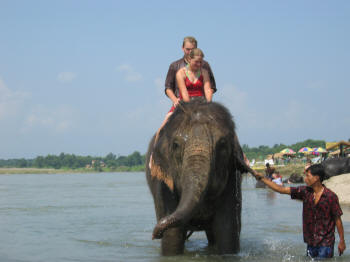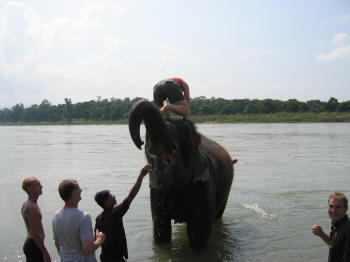 After washing we fed the elephants and then we had also lunch. After lunch it was our time to ride on Basanti through the jungle. An elephant is so gentle in walking and also so strong. When there was a tree in the way, she simply pulled it out off the ground! We went together with some more groups into the jungle and as a "team" we tried to find Rhinos. It is not the good time to look for Rhinos since the bush are quit high and the jungle is green and big.
We where lucky and spotted one. The rhino is not annoyed by the elephants and does not really run away. We first spotted the Rhino in the bush, but later on we saw it in a grass field. All the groups came and surrounded the rhino. The rhino simply stayed and grassed. Really amazing!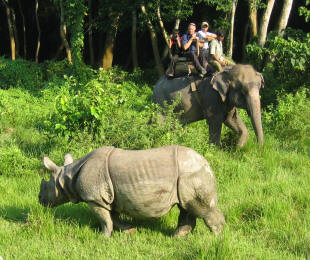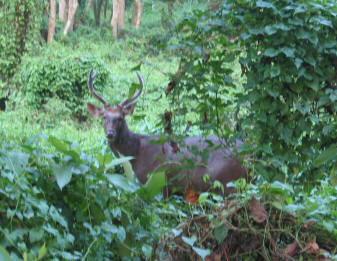 After our meeting with the rhino we also saw a group of pigs with piglets and a fantastic big deer. The ride on Basanti Kali was great.

Sunday 9th of October 2005

Place: Chitwan National park, Nepal
Climate: sunny, hot and humid, about 31 0C
Health: Both Henk & Anit in good condition
Thought of the day: Sad news we have to leave Nepal (Henk); Good-bye Nepal, but we will come back! (Anita)
This morning we got up at 05.45h, because we had to pack and breakfast was already at 06.30h.
At 07.00h we left the camp by pick-up jeep to go to the Elephant breeding center. The ride was bumpy and at a certain moment we arrived…….in the middle of nowhere. In the middle of nowhere? No, actually the road stopped and we had to pass a small river by boat and then the breeding center was just 5 minutes walk away.
At the breeding center we first where send to a room to read different posters all about the establishment of the center, how elephants where trained and the life cycle of the Indian elephant. In the past there where many kinds of elephants and nowadays there are only 2; the Indian and the African. Main differences are the size, number of toes and only the Indian elephant can be trained. The training has to be done at young age (between 2 and 4 years). After all this reading it was time to go to the elephants. Presently the breeding center had about 12 adult elephants and also about 12 youngsters from 1 week old up to 4 years. The adult elephants are chained by the foot and the youngsters could run around 'freely'. Elephants are great animals.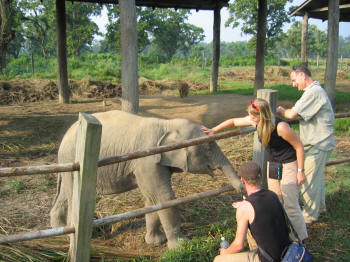 After the visit we returned to the hotel, check-out and said one more time goodbye to our elephants of the Jungle Safari Lodge and of course also their staff.
We enjoyed our stay and as promised to our friends from Chitwan we just want to say to anybody going to Nepal: GO VISIT JUNGLE SAFARI LODGE IN CHITWAN!

The whole group was brought to the bus station. We said goodbye to Reece, Chris and Par and got on our bus. The bus was actually not so bad this time and we had a bit more space. Also the windows where bigger, so it even felt bigger. So far so good. Our backpacks went one top, everybody got on, and off we went for the 4-hour journey to Saunauli (Nepal/India border).
The ride was…….well what can we say, you get used to it, but death seemed very near sometimes. And they say India should be even worse with the driving.
After many stops, drop-off and pick-up of local people, which is normal for a tourist bus (actually it isn't a tourist bus, but they sell it to you as a tourist bus ride), we arrived at about14.00h at the bus station a few kilometers before the border. We decided to team up with another Polish couple and 2 Argentinean girls to share a jeep to the border. Saves money and you can pick with whom you are sharing a car.
The Argentineans decided to stay before the border and we crossed the border by foot together with the Polish couple. At the border things went really smooth. Within 30 minutes we passed the border and arrived in INDIA.
Good bye Nepal!