Mongolia
Sunday 31st of July 2005:

Place: on the train form Irkutsk to Ulaan Baatar, Russia/Mongolia
Climate: Sunny, about 28 0C
Health: Anit and Henk in good condition
Thought of the day: totally scared of Mongolians (Anita); Visit Mongolia?; rather go directly to Beijing, China (Henk)

After a very pleasant evening at the house of Dimitri and Lilia, we had to get up early this morning (at 04.30h) to get in time to the train station. The train was leaving at 06.04h, local time. To help us on the way Dimitri had organized a taxi, but he even joined us to the station and into the train and Lilia prepared a delicious breakfast/lunch box with bread, tomatoes, lettuce, cucumbers and ham. At leaving the house we said goodbye and thanks to Lilia and drove with Dimitri to the station. So far, so good.
At the train station we met some of our friends from the first part, Arno, Gerda, Arjan, Esther, Leny and Jur and nicely most of them where staying in the same wagon as us. The train came and we all entered the wagons and shock, all compartments where already full of sleeping people! And of course they didn't want to leave so easy or quickly. Our compartment was the biggest catastrophe. It was full of Mongolian traders with their wives who were completely drunk and half sleeping. Dimitri, helping us on the train, started speaking to them in Russian. The big guy started shouting back and hell broke loose! After a couple of minutes they finally started moving and 2 persons left the compartment making our beds free. Thanks Dimitri for helping us in the train, without your help it would not have worked.
Peace seemed to have returned, and the Mongolian police came checking/cleaning all compartments of this wagon and all Mongolian traders were removed including all their merchandise.
Now we were alone in a smelly compartment. What happened to our pleasant experience from Moscow to Irkutsk in first class with nice Irina and Svetlana? Luckily also here we received fresh sheets and could open the window to get some fresh air in.
After all battles, we had coffee with crackers with Arjan, Gerda, Esther and Arno shearing our first experiences on this train.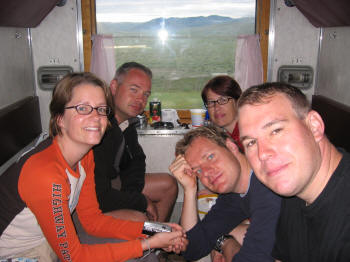 The compartments in this train were not so nice, but for one day and night we would manage. As a tip we recommend, where possible to book first class or otherwise for sure book (if you are with 2) 4 places in the compartment, so you have the whole compartment for yourself. The price we paid for 2 places 2nd class is 90 Euro and otherwise it would have been 180 Euro for 4 places.
The most beautiful about this part of the trip is the view outside, the changing landscape. First we traveled for more than 200 km along the lake Baikal and then the landscape changed gradually to more mountainous on both sides.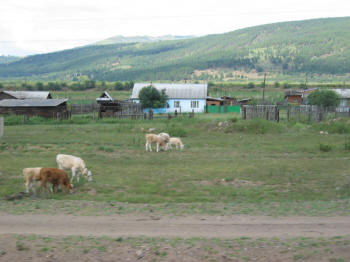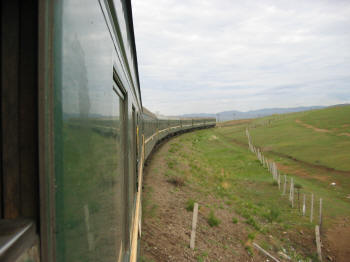 The train crosses the Russian-Mongolian boarder in the middle of the night so you can forget about sleeping. First you are asked to fill out the custom declaration and then the control starts. The Russian border procedures took all together 6 hours! They collect your passports and keep it for a couple of hours. In meantime the custom officers examined thoroughly your compartment including unscrewing roof and any possible "hiding places". This for possible smuggling of goods from Russia to Mongolia. It was quite interesting to see how the Mongolian traders tried to hide their goods. Basically everybody including train staff and police! was involved. While we, bloody tourists were having fun watching the smuggling process in the train, the traders were anxious and stressed looking for the safe hiding places. Whether they were caught or not is difficult to say, but the custom officers walking afterwards with 6 bottles of vodka says enough, wouldn't you say.
The same, but luckily shorter procedure took place at the Mongolian border. Here the customs officers were friendlier and after another 2 hours the train finally moved in direction of Ulaan Baatar.
One thing we would like to add is that the WC's at this border are the most disgusting we have ever seen. Make sure you use the WC in the train before it stops at this border and then don't drink anything!

Monday 1st of August 2005:
Place: Ulaan Baatar, Mongolia
Climate: Sunny, 27 0C
Health: Anit and Henk in good condition
Thought of the day: will we meet Moogii or not??? (Anita & Henk)
With the delay of two hours (thank you Russian passport and custom control) we arrived at 9.30 in Ulaan Baatar. The first impression of this city (seen from the train window) was not positive: dirty, grey, a lot of rubbish, old Russian cars, men peeing everywhere…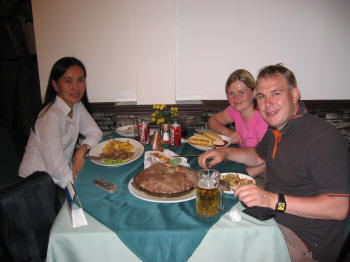 When we left the train we were approached by George and Iona – two friendly Mongolians who offered us a room in their guesthouse. George spoke perfect English and offered a free transfer to his place what encourages us to make use of his offer. Iona kindly gave us her phone so that we could contact Moogii and make appointment for the evening. (Moogii is a Mongolian girl who studies in Gent, Belgium, we met her in Belgium and asked to buy train tickets from Ulaan Baatar to Beijing). The George's guesthouse turned out to be a great place. Very clean and comfortable, it offers a range of facilities (see our recommendations). The price for the double room is 15 US$ including breakfast. We took a shower (necessity after a train trip) and went to the internet café to make some update of the website. Later we met Moogii and together we enjoyed the first Mongolian food in "The Modern Nomads" restaurant. We got the train tickets and after the dinner, we had a walk in the city centre. Moogii, again thanks for your help!
In the late evening we discussed with George the details of our planned 3-day trip to the countryside of Mongolia.

Tuesday 2nd of August 2005:
Place: Mongolian countryside: Hustai National Park
Climate: Sunny, 30 0C
Health: Anit in good condition and Henk some problems with his stomach
Thought of the day: never been so close to completely other culture… (Anita); The country side of Mongolia is so, so ,so beautiful, I never knew nor expected (Henk)
Here begins the great adventured! In the late morning we left crowded Ulaan Baatar and went to the Mongolian countryside. Our first destination was the Hustai National Park. We chose to go with the Russian jeep (really cool!). George and his friend Aruka joined us on this trip. And so we went to the Mongolian steppes. The jeep is needed since outside UB there are only sand roads or no roads!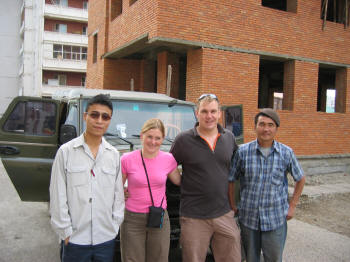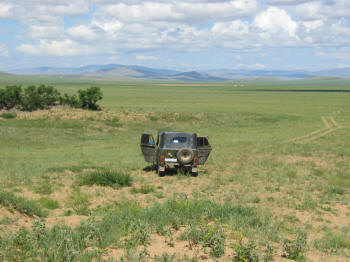 On the way to the park we stopped to see the sand dunes and our great driver, Jamba (first to the right) let us drive the Russian jeep, what on these uneven bumpy roads was a great fun!




Our wish was to stay overnight at the real Nomadic family. And this wish quickly became reality. Thanks to George and Aruka's willingness and flexibility we managed to find a family living in a ger (a Mongolian round tent) who agreed to offer us accommodation and meals. By coincidence the family turned out to be George's relatives!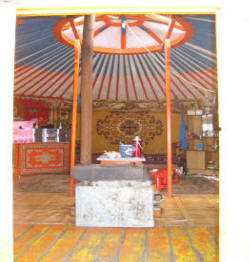 Shortly after we entered the ger (guests always go to the left side, the right side is occupied by the family members) we were offered the horse milk (Mongolian speciality). Sorry to say, but it's just not drinkable (Anit)!!! And the bad thing is, you are not allowed to refuse it! If you do refuse, the family may feel offended, since they offer all things to you from the heart. After the milk, you get hand-made cookie and butter. This is quite tasty. Really nice I would say (Henk). When I was offered a cup of tea I felt much better. I thought I could kill the terrible milk taste I still had in my mouth However, to my great disappointment, the tea was white, meaning it was mixed with milk, horse one of course! (Anita). One thing is for sure: Mongolian food is not for vegetarians! It's mainly based on meat and (horse) milk.
The nomadic family was very hospital. They offered us food and bed in their ger, we could ride the horses, we participated in the ever-day countryside activities like horse milking, portioning the just killed cow into meat pieces, catching the horses, cooking.




This family, like every nomadic family moves around with all property (ger, animals) in order to find a new grass for the animals (sometimes even once a month depending on the grass available for their herd). The whole existence of the family is based on the animals; they are the source of income for the family. The family we stayed with has over 800 sheep and about 40 horses and some cattle (Mongolian standard). The herd consists of 5 sorts of animals: horses, cows/yaks, sheep, goats and camels (the family we stayed with did not have camels). In the evening we went to spot the Takhi - zebra like horses (Przewalski wild horses). Luckily enough, we saw them from the 10 meter distance what normally is not that easy. These horses were brought to Mongolia from different zoo's around the world. Here in Mongolia they can enjoy the natural wild life. This project aimed at helping to maintain this rare horse breed and provide them with the natural environment. At the moment there are 150 Przewalski horses in the park.
In the evening, at the candle light, we played cards together (Henk learned us all play 31 and Donkey) with the nomadic family and despite the communication problem, we had a great fun.
The head of the family who is also a ranger of the park came home later and greeted us by sharing the sniff tobacco with everybody. He passed the tobacco on the palm in the right direction for everybody to have a try. That's another typical customs of the nomadic life.
Since there is no toilet, nor shower in the ger, all needs must be done in the "nature"; walk 50 meters away from the ger, dig a hole and go for it. Cool for 1 night, quite difficult if you have to do it every day!

Wednesday 3rd of August 2005:
Place: Mongolian countryside: Hustai National Park
Climate: Sunny, 30 0C
Health: Anit and Henk in good condition
Thought of the day: the most beautiful part of a camel are the eyes. This was the first time I have ridden a camel (Anita); Mongolia, simply great! (Henk)
In the morning we had Mongolian breakfast (again horse milk, cookies with butter, milk with tea). After having said good-bye and thanked for the great hospitality we went back to Ulaan-Baatar. We took a different 'road' back to UB, which seemed to be shorter but for sure even more bumpy. Well ,anyway outside UB the routes are only sand routes and if there is no road, you make one.
On the way back we spotted a camel and we had a possibility to try riding it! It was a first time for us to see and ride a camel! (not counting the poor beasts we saw as kids in the zoo).



We had a short stop in Ulaan-Baatar and we took off for the second part of the great Mongolian adventure: the Terelj National Park. This is a very tourist place with camps everywhere and tourist attractions possibilities like horse riding, hiking, rafting, and bicycling. Almost every tourist agency has this park in its offer. We stayed 2 nights in the Dinosaurs Park (situated among beautiful rocks and surrounded by the sculptures of dinosaurs). We liked the place very much because it was a perfect place for climbing. Also here we slapped in a ger, but from inside it looks more like a hotel room. Toilet and shower are also available in the nearby house. Additionally this park has a restaurant with all kinds of dishes. The restaurant was beautiful from inside, but we didn't use it since we brought our own food supplies (go the cheap way to save money and it's also fun to prepare meals from the different things you buy along the way).
Thursday 4th of August 2005:
Place: Mongolian countryside: Terelj National Park
Climate: Sunny, 28 0C
Health: Anit and Henk in good condition

After a good night rest we spent the day climbing, to discover the breathtaking views on wild Mongolian landscape. From the top of one mountain we saw a great bustard sitting on her nest probably with eggs. The bird didn't move at all, and we were silent in order not to scare it.




Climbing was a great fun – we helped each other to climb the rocks because sometimes they were so high or so steep that without each others help it would not be possible to reach the goal. See here for some breathtaking pictures:



In the evening we made arrangement for the horse riding the next day. As it came to the price, we negotiated it in Russian! Again, it's helpful if you know some words in this language.
Henk, the farmer boy, approached a horse but apparently it didn't like Henk too much and in place of giving a kiss it bit him in the wrist! The injury didn't look very good but Anita, the perfect nurse, took care of it.
This night was the last night in a ger before going back to UB. It was in fact the worse night we had up till now. We experienced the attack of thousands of black beetles!!! The ones you can also find sometimes in your soup when leaving it a night in the cellar. They were falling down from the whole on top of the ger on the floor and our bed! They were everywhere! Henk counted (he thought it might help to fall a sleep) and on average every 10 seconds there was a one beetle falling down! So, 6 in a minute = 360 per hour = +/-2,000 bugs in one night!

Friday 5th of August 2005:

Place: Mongolian countryside: Terelj National Park
Climate: Cloudy, 25 0C
Health: Anit in good condition, Henk's wrist is swollen, but the wound dry and clean
Thought of the day: Was so scared by the beetles that I am happy there is a day again and no need to sleep in this place any more! (Anita); Today horse riding together with Anit, great! (Henk)
This day we did 2 hours horse ridding. That was a great experience. We were allowed to go alone (without a guide) for 2 hours into the mountains, we could basically go wherever we wanted. Anita was for the second time on a horse and for the first time without a guide. Excuse me, but there was also Henk to guide and help her, who grew up with horses at home.
So, we went up the mountains and into the forests. On the way we were caught by the rain, so we hide close to the rocks. After the rain we continued the ride and took the horses to some nice grass and river for water drinking. After returning the horses we thanked the owner and paid.
Now there was a time to head back to our camp, pack our stuff, because at 3pm we were picked up by the driver and we came back to Ulaan Baatar to sleep one more night at George's Guesthouse.


Saturday 6th of August 2005

Place: Ulaan Baatar – Zamyn-Üűd, Mongolia
Climate: thin dark clouds, raining in Ulaan Baatar, about 260C
Health: Both Anit and Henk in good condition. Henk's wrist is healing well and the swelling reduced
Thought of the day: Finally heading to China (Henk) Nether been so far from home! (Anita)

Kukellekuuuuu, kukellekuuuuuuuu, (Polish version: Kukkurykuuuuuuuu, kukkurykuuuuuuuuuu) 06.30h and Henk's alarm is waking us up. An early start this morning! We have a train to catch at 08.10h. George and Iona are already up ready to say goodbye to their other guest from France. We packed our bags and ufff, they seemed to get more heavy. Maybe we bought too much food.
After a nice breakfast we said goodbye to Iona, and George brought us down to the taxi.
The taxi driver brought us to the train station of Ulaan Baatar. The driver took a strange road, but we got there quick and safely. The train was already there and we hopped on. On board we met our neighbours on the right side Maggie, Mark and their son Josh. Maggie is from New Zealand and Mark from Australia and they live together in Brisbane, Australia. After hearing our further travel plans, Maggie immediately invited us to visit them in Brisbane. Be careful Maggie, before you know we are on your doormat! From the other side, we had other nice neighbours: Mark (originally from Ireland), his wife Migaa (originally from Mongolia) and their sweet daughter Ann-Michele. They now live in Shanghai. All in all it was a very pleasant journey.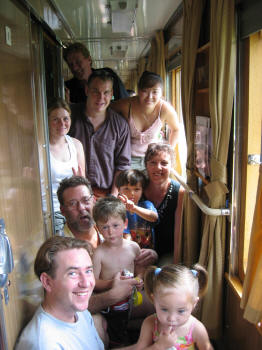 The Mongolian landscape changed gradually from green to more brown and there was less and less vegetation. After 4h and 15 min we reached the first stop at place called Choir. The place was a GREAT NOTHING. After the Russians left in 1992 (It was the biggest Russian air base in Mongolia), Choir turned into a ghost town as it still is today. A statute of the first Mongolian cosmonaut cheers up the main square in front of the train station.
After 15 minutes of stretching the legs we moved on and entered the Gobi desert. Looking outside, the land is yellow, brown, flat, wide and endless…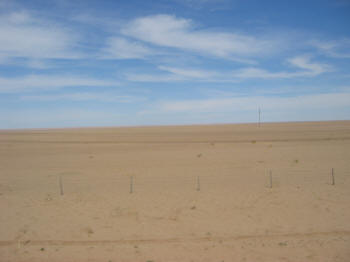 The train was very comfortable. We had a good service, free lunch which Anita actually overslept and cunning Henk took an advantage of eating her portion!
In the evening we went to the train restaurant. It was, however, a big disappointment because form the whole menu they only had GULASH! So lucky Henk had a nice dinner, and Anita enjoyed SPRITE. Nice was a big word, it was eatable. So, our tip, buy always food along the way when you have the opportunity to buy something you like.
In the late evening we entered the Mongolian-Chinese border. The most interesting was of course the bogie change (because of different width of the railway in former Soviet Union vs. the rest of the world). The train went into a huge hall. Every wagon was detached from each other and lifted to change the chassis (bogie). What a hassle! Finally we got the right bogie size and we went off for China!