China (Chengdu & Tibet)

Thursday 8th of September 2005

Place: Chengdu, China
Climate: sunny and little mist (normal for most cities here), about 28 0C
Health: Both Henk & Anit in good condition
Thought of the day: Hot items here are: How to get to Lhasa and how to get to the Panda research center (Henk); I'm curious how the Kate's birthplace looks like (Anita)
We arrived last night at 01.30h at Sam's Guest House and luckily they had a room free, so no big hassle. The room was clean, but looked very old and how to say,…..not so pleasant. Next morning we asked if it was possible to change and it was. We could move to the newer building. There was also a small restaurant filled with foreigners. Of course we met a couple (Annemarie and Thijs) from the Netherlands and could exchange some ideas about travel in China.
After breakfast we moved our stuff to the newer room and went to Sam's tourist office to check how we could travel to Tibet. At the office they informed us the next day 2 guys would go from Chengdu to Lhasa by jeep. Henk would also like to do that, but impossible since you would need 10 days for all the proper permits. Then fly. There was a possibility for us to fly on Saturday at 07.30h in the morning (they need one day to organize your 'fake' group permit for Tibet). Ticket would cost 2050 RMB including 400 RMB for the fake Tibet permit per person. We agreed to come back to them later that day, regarding this and first wanted to check if we could book the ticket without permit. What we did book was a tour to the Panda breeding centre and a Chinese culture show.
Since our cash funds where running low, first thing was to get some money out of the wall. Easy you would say, since we saw a couple of banks with ATM. They just didn't want to do it these bloody ATM's. Some just spit out our cards, some needed 5 digits, some 6 and we had only 4. Some wanted our pin many times and then said no. Finally we got the word: "Go to China Bank". And do you think we could find one? Then Henk came with a brilliant thought to take a taxi to the Crown Plaza hotel and yes, there was an ATM and it was giving us money like no other ATM before, hallelujah.
Now we were heading to the china southern airline office. The answer was no, no flight without permit so back to Sam's to book everything there.
After all booking was done we decided to go by taxi to the most famous monastery in Chengdu to might find something new and eat vegetarian (Anita's day) at the restaurant there. When you travel, you learn always to check and double check if you have your things, but this time Henk checked too late. Oooooops, at the monastery after having left the taxi Henk found out he left the Lonely Planet China in the taxi. We went back to Sam's place if they could help us. But without receipt and having over 4,000 taxis in Chengdu there was no possibility to get back our LP. Though luck. Good thing was we where at the end of our China trip, but you get emotional attached to the book and it is an expensive book. This meant also no vegetarian food, but pizza at the restaurant of the guesthouse, since we had no time enough before going to the Chinese cultural show.
In the evening we went to the Chinese cultural show and it was fantastic.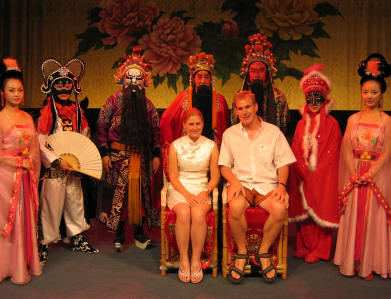 Friday 9th of September 2005

Place: Chengdu, China
Climate: sunny and 28 0C
Health: Both Henk & Anit in good condition
Thought of the day: Pandas, pandas, pandas! (Henk), Getting tired of China because of thousands of people everywhere (Anita)
This morning we woke up at 06.30h to be in time for the bus ride to the Panda breeding centre. The best is to go early in the morning to see the feeding of the pandas. Pandas are so lazy that they like to sleep 24 hours a day and only show themselves for food. This is also one reason why there are not so many wild pandas anymore. The man and woman have problems (or are to lazy) to find each other in the big forest?!)
In the bus we met a whole group of Polish people coming from Warsaw. Anit was so happy she could speak some Polish again.
Arriving at the park we went straight to the large pandas. It is really fantastic to see them, how they play, eat, look, sleep. We would say just look at our pictures.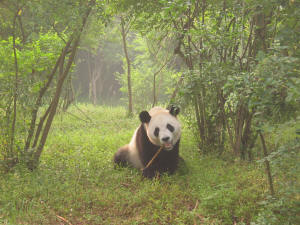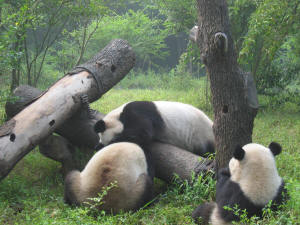 We where also very lucky, just 2 days ago a little panda was born and we could see it lying in an incubator. So small, but such a long tail? Again, just look at our pictures.


On our way back we decided together with the Polish group to go buy local bus to the biggest Buddha in the world. 73 meters high, constructed from the rocks.
The trip itself was okay (2 hours), but arriving at the park we had to climb again many stairs (Chinese must love stairs). When we came closer to the Buddha, you could go from the top of the Buddha down to the feet. It was like being at a popular theme park. There was a waiting line of more than one hour to go down, but we came here and so we did it. Again we found out culture is nice, but we sure love nature much more.
Coming back to Chengdu it was time for MC Donald's, time to Super Size Me!
Luckily just before we went to bed we went to Sam's place to pick up our tickets, we found out that our flight was not at 07.30h but at 14.35h.

Saturday 10th of September 2005

Place: Chengdu to Lhasa, China
Climate: sunny and 28 0C
Health: Both Henk & Anit in good condition
Thought of the day: Tibet, here we come!! (Henk), Wow, it's one of the most beautiful things I have ever seen: Himalayas from the plane (Anita)
In the morning during breakfast we met Thijs and Annemarie again. They also decided to go to Lhasa on the same flight. After breakfast we had to still organize some things (pack our bags, update web-site, e-mails check, fix the GPS device, etc). At 12.00h we would leave to the airport.
At the airport we made the rest of our tour group and tour guide to Lhasa. This is how it works, the organization puts us all together as a tour group and you can get a permit to visit Lhasa. This permit by the way you will never see.
At the check-in counter Anit tried with here best Chinese to explain to our 'guide' that she wanted to sit at the window. She got her seat at the window, but not only she, the whole group! Everybody had a window seat, but spread all over the plane. Some couples almost broke up due to this event!
We together with Thijs and Annemarie changed seats again back together with 2 window seats.
The flight was beautiful! As soon as we reached the border of Tibet, we could see the roof of the world. So many beautiful mountains and they looked so near.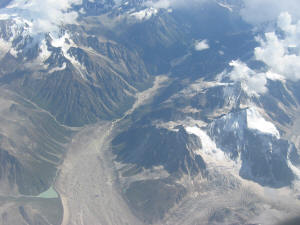 It was a flight of nearly 2.5 hours and we landed in sunny Lhasa at 3,700 meter altitude.
The bus ride to Lhasa city was full of entertainment with some real high risk take-overs by our bus driver.
After arriving safely in Lhasa we took a room at the Yak hotel. Henk loved these rooms with their Tibetan interior. After checking in Annemarie and Anit went to the local pharmacy to buy some altitude tablets and oxygen. At 3,700 meter there is about 30% less oxygen in the air as at sea level and your body has to adapt to this. It can, but it needs time and one should increase altitude step by step and not like we did from 500 m to 3,700m.
That evening the four of us had dinner at the lovely restaurant called Dunya, which is run and owned by one Tibetan, 2 Dutch and 2 Americans. The food was delicious, which we actually did not expect in Lhasa.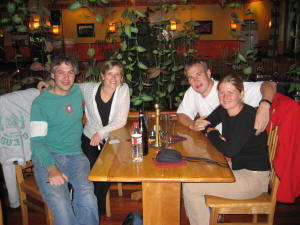 Sunday 11th of September 2005

Place: Lhasa, Tibet/China
Climate: sunny and 26 0C
Health: Anit in good condition, but Henk terrible pain in the stomach!
Thought of the day: My happiness to be in Tibet is not so great anymore, why do I feel so bad? (Henk); Let's taste my body, no altitude tablets, no oxygen, nothing, I was born in the mountains so it must be ok! (Anita)
In the morning Henk felt terrible, but we planned to go to the Nepalese consulate to organize our visas for Nepal. Oh oh, it's Sunday so no visit to the consulate today. We slept a bit longer and at 09.30 we headed for breakfast, where we met Thijs and Annemarie. This was good, since Henk spoke about his problem and Annemarie said she had the same problem on earlier holidays and it was an unwelcome bacteria in the stomach. We just had to buy some specific antibiotics. So we did. 6 tablets a day for 5 – 7 days and all should be okay.
Since we needed to go to Nepal we used the rest of the day to visit the travel agencies to investigate about the possibilities to travel by jeep from Lhasa to Zangmhu at the border. After a few visits we found out the price for a 5-day trip was about 4,500 RMB for a jeep with driver including all the accommodation and food for the driver.
At one office we met Tenzin, a nice Tibetan guy who gave us a lot of information and told us it was not only possible to go to Everest Base Camp (EBC) at 5,200 meter, but we could even climb up to North Face base Camp (or also called Advanced Base Camp (ABC)) at 5,800 meters. We asked him if he wanted to join us on this trip and he said yes. The total price for this 8 day trip would be 5,600 RMB for car, driver and guide. On top of this would come the cost of entering EBC 530 RMB, the bus to EBC (160 RMB) and our food and accommodation (1,000 RMB). In total we estimated the whole trip would cost us 7,500 RMB (=+/- 750 Euro). We agreed with Tenzin we would find one or 2 additional travelers and would also finally decide next day if we would do this trip with him.
Monday 12th of September 2005

Place: Lhasa, Tibet/China
Climate: sunny and 26 0C
Health: Anit in good condition and Henk really bad with his stomach
Thought of the day: Bllllllllllllahhhhhh (Henk) I love Lhasa, it's so different from China cities, women wear traditional dresses everyday and the main activity of people here is praying (Anita)
Henk took his tablets, but was not feeling much better yet. Anyway, after breakfast (for Henk some tea with toast) we went to the Nepalese consulate. There things went quite smooth. There were not so many people and we were even asked to come forward and not wait in line. After filling out the forms and handing them over (and paying 500 RMB of course), we could come back the same day at 17.00h to pick up the visas.
Now we headed to the travel agency where we yesterday met Tenzin to finalize the details and try to get something of the price (as usual).
At the travel agency we went through the itinerary one more time and it all looked great. We would drive via the Yamrok lake ad via the friendship highway (one of the most dangerous in the world) to the EBC (Everest). At EBC we would stay 3 nights. From there is 3 days driving to the border with Nepal.
We agreed to check in the evening the jeep, pay most part of the trip, except 500 RMB for Tenzin our guide as our little insurance. Tenzin gave us some advice what clothes to bring and a good address where locals buy their stuff.
So said, so done and we went to this market advised by Tenzin. Here we both bought very nice ski jacks for 10 Euro each (after hard bargaining of course)
In the mean time we posted at many hotels and travel agencies our request for finding co-travelers to split the costs of our trip. Finally we met one American, but we were not so sure (he also doubted), but we went all together to the agency. His name was Jerry (and he also looked a bit like Jerry Springer) and he had problems with staying so long at EBC and he wanted to sit in the front, because of his back. He also needed to go back to Lhasa and after finding out it would cost him 400 RMB extra we decided we could find no compromise.
We now booked and paid our trip and went back to the hotel. By the way, Henk was not feeling well at all and he was having big problems with his stomach, not eating, loosing weight (which was the only good side of this).
We did eat something that evening at Dunya's and met there a Swedish guy named Carl. We invited Carl to our table and it was a pleasant evening. He just arrived in Lhasa, and after hearing our travel plans he was interested to join us. We exchanged numbers and he would call us.
Tuesday 13th of September 2005

Place: Lhasa, Tibet/China
Climate: sunny and 26 0C
Health: Anit in good condition and Henk still really bad with his stomach
Thought of the day: Bllllllllllllahhhhhh (Henk) Love Lhasa more and more (Anita)
Lhasa is a beautiful city with clear sky (no industry) and lovely houses. Also the climate at this time of year is pleasant. Even though Henk did not feel much better, today it was time for some culture, so we went to the Potala Palace. It is huge place. Although it is of course a beautiful building, what we cannot understand is that 'poor' people are offering their last RMB's to passed away leaders of Tibet lying in tombs of 5,000 kg of gold with diamonds, pearls, agates and other expensive stones. We did/do the same in the Catholic Church, but if you think about it……………………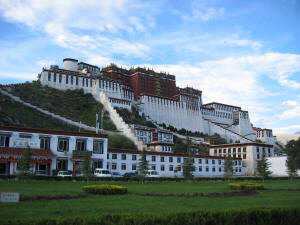 After Potala we still had to buy some stuff for our trip.
In the evening we had a farewell dinner with Thijs and Annemarie who made a trip to Yamrok lake this day and would fly to Sanya next morning (We hope you had fun there!, just let us know).
In the restaurant before Dinner Henk spoke with one of the Dutch owners Jeanet and she informed him that a high altitude always first attacks your weak spot and makes it even worse. It didn't make Henk feel better, but gave some logic to the case.
Dinner at Dunya was nice as usual, even though Henk did not eat much. What was also nice was that Carl called. Unfortunately he rejected our invitation to join, but it showed he was a nice guy because he called back.
Wednesday 14th of September 2005

Place: Lhasa to Shigatse, Tibet/China
Climate: sunny and 26 0C
Health: Anit in good condition and Henk bit better, but still bad with his stomach
Thought of the day: I love to go to Everest, but please give me some strength (Henk), Here we go, Tibet, mountains all around and few people, we are going away from the world (Anita)
At 08.00 hours the driver and Tenzin arrived at the Yak hotel to pick us up. Anit would quickly check out and Henk wanted to make an update on the web-site of the last changes. So far so bad. So bad? Yes! Internet was not working. The lady told Henk the post office was still closed and that's why it was not working and Anit was in a fight with the lady of the reception regarding a dirty towel which we had to pay. Henk gave up on the internet and Anit tried to wash the towel herself, but it had a big brown mark (like rust or something) and it was difficult to remove. After some hard discussion with the lady of the reception she agreed that we didn't have to pay for the towel. With 1 hour delay we left Lhasa.
The beginning of the ride was fine, good asphalt road all the way to Yamrok lake. When we arrived at the lake we were astonished, so beautiful. The most beautiful lake we have ever seen. The color was turquoise. We would say just look at our pictures.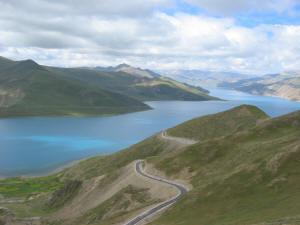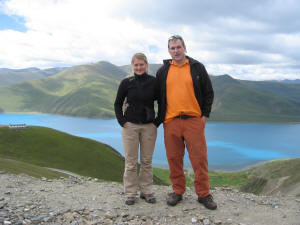 When we drove further we made one more stop at Yamrok where most tourists would stop and where a lot of locals tried to sell different stuff or have their picture taken for money. Also Henk saw a pool table and he couldn't resist, he grabbed the stick and started to play. Tenzin came over and played against him. It was a tough game at 4,000 meter high, but a lot of fun. Henk said the magic words:" Now I finally play at a higher level than Jos".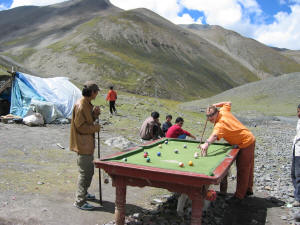 Yes it was true, Jos had never reached such a level.
After our stop at Yamrok the road got worse, but still okay. We reached Shigatse nicely in time and found a decent hotel. In Shigatse the driver Toda and Tenzin went to get our permit to travel around in Tibet (cost 10 Euro each). We went to our next monastery and later on to the Internet café to finally publish our updates. To keep your web-site in good shape requires quite some work.
Tenzin wrote for us down the address of the hotel where we stayed, but our taxi driver back from the Internet café to the hotel did not know where to go. Luckily we (Anit) knew more or less the way back and with some help of the locals we finally found the hotel.
Thursday 15th of September 2005

Place: Shigatse to New Tingri, Tibet/China
Climate: sunny and 26 0C
Health: Anit in good condition and Henk feeling better every day
Thought of the day: It is so extreme beautiful here! (Anita&Henk)

Today unfortunately again we left with 2.5 hours delay. Our permits were not ready yet and Toda and Tenzin went to the office to pick them up. We left at about 11.30 hours for the ride to New Tingri. Today was no particular sight on the program, but we would cross a pass of more than 5,200 meters. The scenery was getting more and more beautiful and the road worse and worse. The Chinese government is not only preparing Beijing for the 2008 Olympics, but whole China. Also here is the plan to make an asphalt road from Lhasa to EBC. And at the moment they are working all over the place on this road, which makes it really hell to drive. Sometimes there is not even a road but luckily Toda was a prefect driver and our Toyota Land cruiser was standing tall. At certain places you look into the deep and the road is narrow and steep and water is flooding over the road (something certainly not for Henk's mam, if she still remembers the ride in the Cascade mountains in America). We drove with an average speed of no more than 30-40 km's an hour. Just have a look at some of the pictures.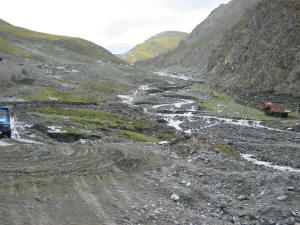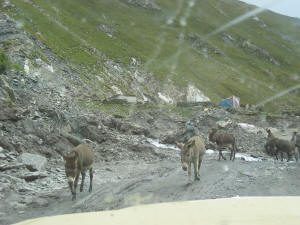 The more far from Lhasa, the poorer the facilities of the hotels. Normal toilets became just holes in the floor and you simply shit on the shit of the others. Our room was full of dirt and dust (maybe Tennant could sell some vacuum cleaners here). And no more hot water in the showers. We were lucky to have a shower in New Tingri.
We must say the food was delicious in this place and what was also nice; we met some people coming back from EBC. We spoke to an old guy called Roy from Nevada, USA. He was so in need of oxygen, while speaking about his adventure, we thought he would almost die!
After dinner we tried to sleep somewhat, but this night we didn't sleep that much.
Friday 16th of September 2005

Place: New Tingri to Everest Base Camp (EBC), Tibet/China
Climate: sunny and 23 0C (Depending largely if you were in the sun shine)
Health: Anit in good condition and Henk in better and better condition
Thought of the day: Today we meet mighty Everest, the highest mountain in the world of 8,848 meters (Henk) Marek would love to be here (Anita)

We left at 08.00h for our drive to EBC. The road was now better, since this was the part up to EBC. It was a serpentine road (see picture) all the way up to the place where the jeeps were not allowed to go further. We were checked in the mean time and had to buy a permit for the car (405 RMB) to enter the park. After entering the park we stopped at a scenic spot where we got our first clear sights of Mt. Everest and the Himalaya. So extreme beautiful! It was a clear blue sky and we had a perfect sight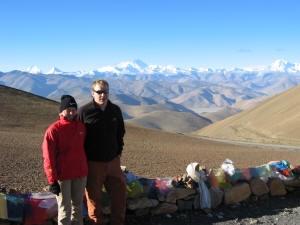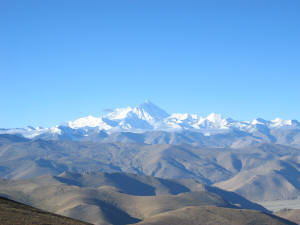 At the stop point of the jeep, we left the car and we only took light luggage for 3 days and went further with the unpolluted bus (a Dodge Ram van). We cannot believe this is unpolluted, but okay. After 1 hour drive the bus stopped at Rombuck monastery where you could change for a horse car ride our walk up yourself. We walked up. For your feeling, it is an 8 km walk where you go up from 4,800 meters to 5,200 meters. Keep also in mind that there is at this height only about 60% oxygen in the air as at sea level. It was a though walk and we did it in 2.5 hours which was okay. Some sherpas (local guys who help carrying luggage up for the expeditions) could do it in 40 minutes.
The view of Mt. Everest at EBC was even much better. We checked in Hotel California, which is simply a big tent with a sort of couch all around and a stove in the middle. We received some hot tea. Henk was again not feeling so well and for sure it was the combination of not 100% recovered from his stomach problems, not eaten enough and the altitude making things worse.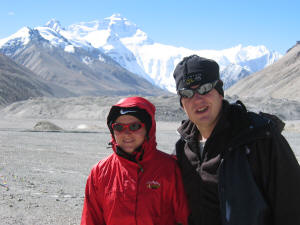 We took an hour rest or so and then climbed up a bit. It is always better to sleep lower than you climb during a day, so we hiked up a bit. It was though. We walked around for about 3 hours.
When we came back Tenzin brought us an update on some problems he informed us about already earlier that day. There were still expeditions at Mt. Everest and it is official not allowed to go beyond EBC. You need a permit and this is quite expensive. Due to the fact there were expeditions (which is rare at this time of the year according to Tenzin) there were 3 officials to check everything at EBC. Tenzin told us he could handle one, or we would leave in the night to the next camp, but with 3 it was more difficult.
With this information we went to sleep or at least tried. We first tried to sleep together (lepeltjes or spoons), which was warm, but there was little space for this. Then we split up in the middle of the night, which was extremely cold (-/-15 0C). And Henk had a headache. So we didn't have good sleep the first night.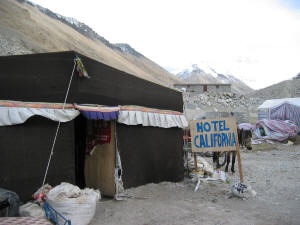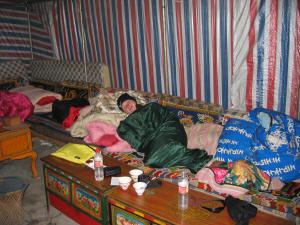 Saturday 17th of September 2005

Place: Everest Base Camp (EBC), Tibet/China
Climate: sunny and 20 0C (Depending largely if you were in the sun shine)
Health: Both Anit & Henk feeling weak
Thought of the day: Will we do it, climb to 5,800 meters? (Henk) I am getting tired so quickly, I hear my heart pumping the blood heavily… (Anita)
Today we got up around 09.30h. For breakfast we had some pancakes, which were actually not so bad, but Henk had absolutely no appetite. He ate only half of the pancake. At BC there is no shower, so washing from the big bowl! Next visit to the toilet, but better not go too often.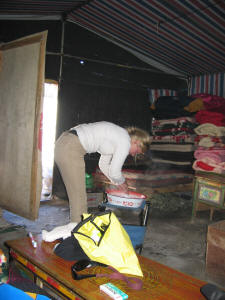 Coming out of the tent we saw mighty Everest and her neighbors. Isn't she beautiful. The weather was good and we had a clear view. The sun shines on the camp after 09.30h; before it is freezing cold.
Today Tenzin would check our possibilities to hike up further en we walked a bit around and drunk tea in the tent. At noon he came with the news it was possible to hike to ABC but at a price of 50 US$ per person. Too much for us. We all went to the 3 officials to discuss the price with them. We were feeling a bit better now and really wanted to go up and see Everest from closer by.
Our discussion with the 3 guys did not help, 50 dollars was the price and they told us it was already with a big discount. Coming back to the tent, we explained Tenzin our disappointment in him and he was also unhappy. We agreed we would leave this afternoon the base camp and would go quicker to the border. For the shorter trip we would hold in money for Tenzin. He was also unhappy, but understood. Then when we went for a short visit to the toilet we met the 3 guys again and they asked if we wanted to go up. We said no, above our budget. When we came back we met one of the officials and he said he organized it for 25 US$ each. This price was acceptable for us and we went to the office, called Tenzin and agreed to go next morning at 05.00 hours. It's a 5 hours walk to the North Face Base camp and 5 hours back so 10 hours walk in total with little oxygen in the air! Will we make it?
Later that afternoon we went for a hike a bit up to train and have a look around. The view was great; we saw some snow chickens and mountain goats.
The walk was so tiring, that we doubted to be able to go up next morning. In the evening we agreed with Tenzin we would wake up at 04.30h and check our conditions. Henk took some medicine and even tested a bottle of oxygen. It helped him a lot. Also we ate some fruit, which gave strength.
Again this night was so cold and Henk had headache again. Anit had also pain in her body and in the stomach (woman problems – what a timing! ) In result, we hardly slept that night.
Sunday 18th of September 2005

Place: Everest Base Camp (EBC), Tibet/China
Climate: sunny and 23 0C (Depending largely if you where in the sun shine)
Health: Anit and Henk in bad condition
Thought of the day: Let's get out of here! (Henk)
We woke up at 04.30 hours, or woke up…we were already awake. No sleep this night and feeling not good. Tenzin told us it was good weather to go up. We discussed what to do, so close and yet so far away. Think of these people who climb the whole Everest and have to go down at 8,000 meters? We wanted to go up, but our health condition did not allow it. The risk is simply too high. When we go up, there is nothing and nobody to help you and it takes a full day to walk up and down. We agreed to review at 09.00 hours and if we felt okay, then make a shorter walk. So said, so done.
At 09.00h we got up again and again 4 hours without sleep. It simply didn't make sense. The altitude was too much for us and we needed more time to acclimatize, which we didn't have. We asked our money back, which we got (Tibetans are mostly honest and friendly people) and we decided to go down by horse car. From there back with the bus and about 2 hours later we met our driver Toda again. He was happy to see us, but we were all weak, not only because of our health, but more regarding the failure of our adventure. On the other hand we must also say, the trip to Everest was great, we had fantastic weather and we tried to go further than most tourists do!
After tea we all hopped into the car and drove to Old Tingri. On our way we made a short stop at the place of Tezin's father and had again tea at the house of Tenzin's sister. Tenzin, thanks for your present.
Well, driving to Old Tingri is not the right word. Toda new a shortcut and a short cut it was, through rivers, along big rocks and deep holes. Sometimes Toda had to go back a bit because he took the wrong path. To be honest, we past some small villages, but for the rest there was no real road!
Every time we passed a few houses, or people in the field, everybody waved to us and kids came running towards the car to see us from closer by.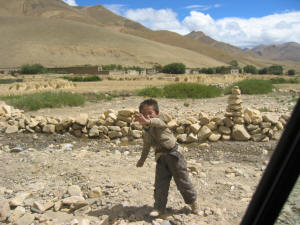 At 14.00 hours we arrived in Old Tingri. We didn't like the place to stay and we decided to drive on the next place called Nylan which is 30 km's from the border. Toda first didn't want, and he said his car needed a rest, and the road would be also bad with a lot of construction places. After lunch we decided different and moved on. The road was actually very good and we arrived in 2.5 hours in Nylan instead of 4 and decided to drive straight to the border and sleep in Zhangmun.
The road and the scenery from Nylan to Zhangmun changed dramatically as we went down from 4,000 meters to 2,000 meters. It was a road down along the river Bhoti Kosi with many dangerous curves. Anit was sitting on the right side and many times she could look down in the deep. And imagine also here no borders along the road, one mistake from Toda and we would fall a few hundred meters down! On top of that the water coming down from the hills, simply fall on the road and so directly on the car when we passed it. The rain that came made it all a 'perfect' ride, good for your hart and nerves.
At 20.00 hours we arrived in Zhangmun found a hotel for 10 Euro which was of reasonable quality. We said goodbye to Tenzin and Toda, went to our room and fell a sleep. Good to have some oxygen back…