China (Hong Kong, Yangshou and Sanya)

Monday 29th of August 2005

Place: Hong Kong
Climate: sunny and very warm, 32 0C
Health: Both Henk & Anit ok, only still feeling the leg of the stairs climbing in Yellow mountains
Thought of the day: Neon's, shops, restaurants of all cuisines, English double Deckers, highlighted sky scrapers, traffic jam…it's exactly how I know it form the English language books (Anita)
Finally again many people who speak fluent English, really makes life easier (Henk)
First thing we did in Hong Kong was arranging the new visa for China (Hong Kong is the easiest place for doing this). We first wanted to do it via the Hostel, but didn't like the price, even so that we also had to pay 250 RMB for Anit (In Brussels her visa was for free). So we decided to go to the Chinese consulate ourselves. There were a lot of people waiting for their visas what didn't make us happy. If we did it ourselves, we would wait probably the whole day in the queue. Things weren't moving at all. Henk went to check out the situation and found out that there was one window open only for the travel agencies, which was much quicker. He than spotted a lady from a travel agency and asked whether she could organize a visa for us. With a small commission (also in this case we had to negotiate), she agreed to do it for us for 400 RMB (so 100 RMB cheaper than via the Hostel). The visa was ready the next day morning. Quite risky one might say to give your passports to an unknown lady, but we think that you must trust people to some degree. Otherwise it is very difficult to arrange anything. It is also different if you approach somebody or if you are being approached!
Later this day we finally went to visit Hong Kong (HK). Since it was already getting dark, we decided to take the boat from Hong Kong Island (where we stayed in hostel) to Kowloon, another district. It takes only 10 minutes and cost just a few Hong Kong dollars, but you can get a very impressive view on the HK's skyscrapers. After the ferryboat we took a bus (double Decker with the open upper deck), which took us to the tram to HK's peak. The tram takes you to the peak where you van enjoy the gorgeous vie on HK. That's really breathtaking! There is also a restaurant at the top from where you can see HK while enjoying tasty (but for Hong Kong pricy!) food.




After delicious dinner we took the tram back and made a walk back to our hostel. On the way back we met a couple of gigantic cockroaches, which get active in the night.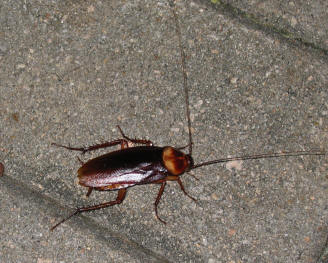 This didn't make Anita happy. "Actually I was scared of every little thing rolling over the street (papers, leaves, etc). Got kind of paranoiac seeing the cockroaches every where!" (Anita) Let's hope they are not going to visit our hostel tonight. Dobranoc.

Tuesday 30th of August 2005

Place: Hong Kong/ Macao
Climate: sunny and very warm, 32 0C
Health: Both Henk & Anit in good condition
Thought of the day: Gambling is dangerous, as soon as you start playing you get involved and you can't control the eagerness to win. Loosing a hundreds of dollar in one play scares me a lot (Anita) Today we lanned a visit to Macau, Chinas gamble city. Let's check it out! (Henk)
No cockroaches in this place. Really a nice and clean place, only a bit small, but all necessary facilities at hand (clean, good bed, good shower). The LP advice is correct to the word.
Yes, the lady was there and as well as the passports with visa! No we could go to Macao. Even though Hong Kong and Macau are now 100% part of China, you still cross a border where you need to show your passport and where there is custom control, etc. After China received back the both territories from the UK and Portugal, they kept treating it as individual territories with special regulations (good policy of the Chinese government).
To get to Macau we took the Turbo Jet boat (1 hour 20 min). The Turbo Jet is like a big speed boat for more than 100 people or so. It runs on a 24 hour schedule between Macau and Hong Kong. The price for a cross over is 144 Hong Kong dollar (= 15 Euro). When we arrived there, we took a bus to the old town. We had a nice walk in the city centre, and later on we found a Portuguese restaurant (recommended by Lonely planet) where we had delicious meal with a fantastic Portuguese wine. In Macau unlike in China wines are affordable in the restaurants. Here we paid 15 Euro for a very nice Portuguese wine. In China this would be 3 times more.
Macau is famous for its Portuguese food. The food is actually imported from Portugal (e.g. wines, special fish, etc).
At around 9pm we took the taxi to the most famous casino on Macau called Casino Lisboa.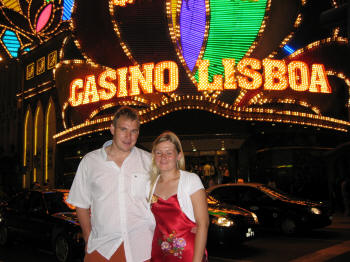 There we of course had a small fight because Anita didn't want to play (I think it's stupid to loose money in this way) and Henk played a few games of Black Jack (his favorite). The result was 30 euros – we won! Uff, fortunately. Interesting is that the Chinese mostly play different games than we do. Also the Black Jack is a little bit different. One other game the played a lot was a combination of throwing 5 dice and a game of cards between player and bank. The Chinese play with lot of emotion, screaming and folding ears on the cards to look bit by bit under the card to see what it is! One other game was only with dice. The bank shaked 3 dice and you could bet on the combination of these dice from low to high or even on the exact combination. I asked Anit one time what it would be, high or low and she said low and I immediately put 100 HK dollar (=10 Euro) on low and we won!
We also visit a new casino called "Sands" – quite impressive interiors, we certainly recommend to visit this place. Here we didn't play, but just looked how the Chinese play.
At 00.30 we took the same boat back to Hong Kong Island and we were so tired that we both slept the whole trip.
Gambling is the Chinese national pastime starting from the commonly played cards on the streets to different kind of casino plays. It was Tuesday night but both casinos were full of Chinese.
Chinese like to gather on the streets to play games using the dice (we don't know what kind of games theses are), normal cards and also kind of thin cards with Chinese signs.

Wednesday 31st of August 2005

Place: Hong Kong to Guangzhou
Climate: sunny and very warm, 32 0C
Health: Both Henk & Anit in good condition
Thought of the day: Welcome back in China = no communication in English (Anita) Bye Bye lovely Hong Kong. Go there when you visit China! Or make a stop-over when your heading to Australia or so (Henk)
Today was the last day of our visit in HK. We didn't want to spend much time here because 1. The city is anyway too big to explore it fully and 2. We came here because we had to get a new visa (the old one almost expired).
We first took a bus to Guangzhou. Again we had to cross two borders (HK and China). Basically without any problems, your passport is scanned and you get a stamp (our passports are getting nice full; a good souvenir). The bags are scanned and you can declare goods if you want. The route took almost 4.5 hours (we don't why because the other way it was the same bus and it lasted only 3 hours). Because of this delay we were very late at the train station in Guangzhou. We were suppose to catch the 17.36h night train to Guilin but, to make the matter worse, we didn't have enough cash to buy the tickets and they didn't accept the credit cards. Also nobody could inform us where an ATM (cash dispenser) was. Finally we also where told that the train at 17.36 had no seats available anymore and that we could only get hard sleeper seats for the train at 9pm. Fine, we had some time. In meantime in the whole hassle we lost Henk's sweater the only one he had. The funny thing was that there was one window with board saying: "Window for foreigners" but a person there hardly spoke any English and the window was occupied by many Chinese. Here we bought our hard sleepers (one open wagon with beds) in place of soft sleeper (a coupe with four beds). As advised by the policeman, we upgraded the tickets in the train and we got a very clean and nice coupe for four but it was empty anyway so we had it only for us.
Traveling by night train is our favorite means of transport in China. You have accommodation and transport in one. It's quit convenient, we can work on computer, watch the films, sleep and the train in meantime covers a long distance.


Thursday 1st of September 2005
Place: Guilin/ Yangshuo, China
Climate: sunny and very warm, 32 0C
Health: Both Henk & Anit in good condition
Thought of the day: Lonely planet was right, Yangshuo has the special character of a sweet little town with the mountains around; Love it! (Anita) Also Rob was right, Yangshuo is really a place you must visit when traveling through China! (Henk)
On arriving to Guilin, we took a local bus to Yangshuo, a Mecca for backpackers as LP calls it. Indeed, it's a place you can't miss in China. There is a one main road call the West street full of shops and western style restaurants. That's the heart of this little sweet town. The town offers a lot of outdoor activities such as cycling, climbing, rafting on the bamboo boats, visiting caves, etc.
When we arrived at Yangshuo (around 1 hour from Guilin), we were immediately approach by a lady offering us a hotel, called The Faulty towers Hotel. Can you imagine? I don't think John Cleese is getting any royalties from this.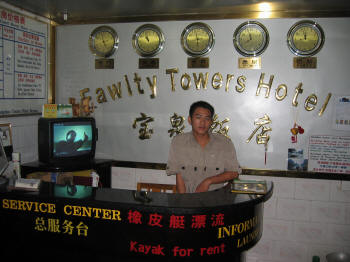 Since the hotel was very close, we decided to have look. Bingo! The hotel turned out to be a good place. We paid 6 euro per night for a big double room with bathroom and balcony. You can use the Internet there (50 Euro cent per hour) and you can have your laundry done for 1 euro per kilogram. We liked the place very much also because of convenient location and decided to stay here 3 nights.
After checking in, we went out to find out what the town has to offer.
Today we decided to go on the boat along the famous Li Jiang River to see the mountainous scenery. We first took a bus and than a lady took us to the place where the boat departures. Again we followed an unknown lady who waited for us at the bus station and who we followed through the village. She couldn't speak English; only the non-verbal communication and some kind of instinct persuaded us to follow her. We went first along the street with old buildings on both sides. We curiously looked into every house and surprisingly we saw portraits of the Chinese communist leader Mao Zedong almost in every house! But even more weird was one house where Mao was surrounded by other great heroes like Stalin, Lenin and Henk Pelster (See the picture). It more or less looked like every house had a little altar with the pictures of the communist leaders.
Bingo! The lady led us to the place where the boat departures. Again, sometimes you should and can trust the people here. After a couple of weeks already spend in China we met friendly and honest people. The only problem is that they always try to rip you off offering very high, unrealistic prices. However, whenever you ask for help, they gather to help you as much as they can.
The boat trip offered a nice view on the river and the surrounding mountains. Here you are a face to face with the nature…
Later in the evening, we organized the bicycles, trip on the bamboo boats and visit to the cave for the next day.

Friday 2nd of September 2005

Place: Yangshuo, China
Climate: a bit misty but very warm, around 30 0C
Health: Both Henk & Anit in good condition
Thought of the day: Finally I see China as I imagined it before, with rice fields, people in the straw hats, lazy river, bamboo trees (Anita) (Henk)
Today was a day full of adventures. We first went with the bicycles across the rice fields. We passed a few small villages where we could see how people live here and what they do for living.
We saw men and women working on the fields, men playing cards, women washing the clothes in the river, a group pf 10 women and girls preparing a meal, children playing on the street. Here you are in the middle of the China.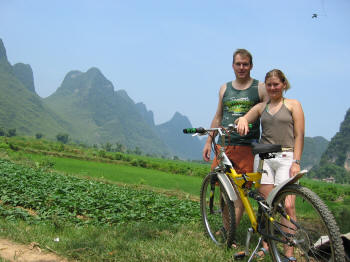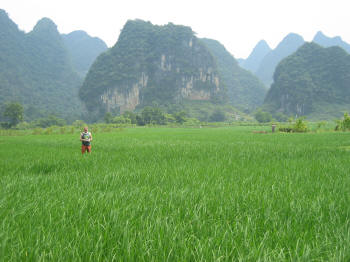 After 2 hours biking, sweating and getting a burn from the sun, we arrived at the river, where the bamboo boat was already waiting for us. The bicycles were loaded on the boat and together with Chinese guy who pushed the boat with a long bamboo stick, we went on 3 hour trip down the river.
WOW! It was great. First thing we did was swimming. We jumped into warm water and swam along with the boat. To the water, on the boat, to the water, on the boat, and so on…
Sometimes when the water was not so deep, we helped to push the boat. And the funny moments were the small dams (we crossed 12 in total). At every dam we had to get off the boat and help in move across the dam. When it lands in the water, it often takes on much water; you get wet and even may fall into the river! That was of course the greatest fun! When Henk pushed the boat with his great power, it is very likely to fall and go under the water. And so it almost happened!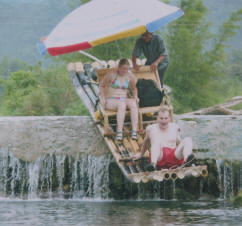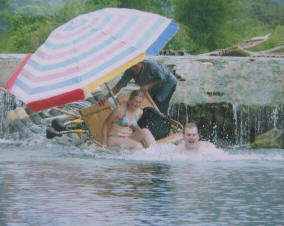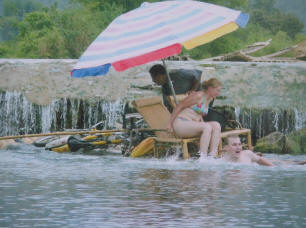 Even the rowing man was scared! Because when the boat turns around, the bicycles, bag and the life vests would sink! However, the good thing about the bamboo is that it floats and very quickly emerges from the water. Super! Every dam was a challenge and a great fun for us. The other tourists sat calmly on their seats and waited till their bout would be pushed through the dam. They didn't want to have their feet wet. And we crazy, jumped off the boat whenever possible to make it even more fun. Henk helped to row the boat so the guy could take a puff.
In the breaks between the jumps, we admired the gorgeous scenery of the river. Life is great!
After 3 hours of this fabulous trip, we finally got to the riverbank. From there we rode on the bicycles to the Moon Cave. It was already late and we arrived as the visitors. We got the helmets, torches and went by boat into the cave. It was a huge cave and you would need 3 days to explore it completely.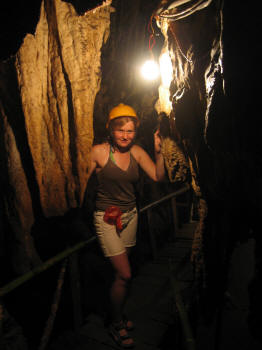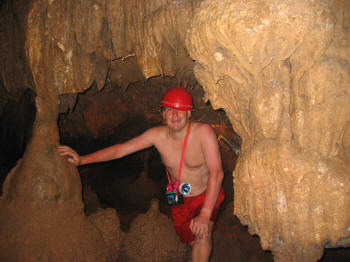 People occupied it for ages and only two years ago it was opened for visitors. The stalactites and stalagmites were impressive. We walked for one hour around the narrow tunnels and finally we got to the…………………. mud bath, the greatest attraction there. We took a bath in the mud, went down with a slide and floated on the mud. Here we discovered that your body completely floats on mud!?!? You basically don't have to do anything. Great feeling!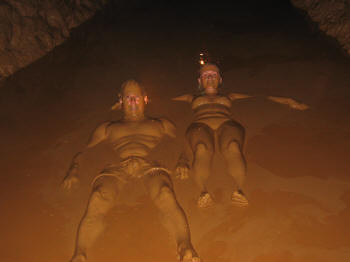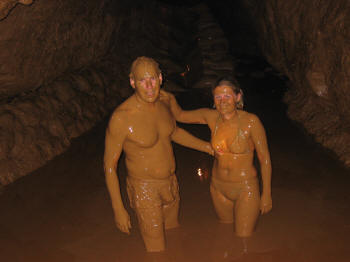 Quite scary in the cave were the bats, which flew around us, sometimes suddenly passed us on the way to the outside world. They go out of the cave at night. We only wander how they find way back in this cave full of labyrinths?
After our mutt bath we took a swim in the 'pool' outside of the cave to wash most of the mutt off.
From the cave back to Yangshuo was about 5 kilometers and we had to go by bicycles. It was already very dark (here in China gets dark already at 7pm!) To go on bicycles on totally unlighted road is almost a suicide so we decided to go by a minibus. However, the bus driver proposed us an unrealistic price, and being already tired of continuously being ripped off, we decided to go by bicycles. Crazy! The nice thing was that during our bicycle ride we got light from the passing by motorcycles, which specially slowed down for us and stayed behind us. That's Chinese kindness a best!
After this adventures day trip, we earned a good dinner. We chose "Twin peaks" restaurant, where we got a table on the balcony. From there we could observe the life on the West Street while enjoying the great meal. That was one of our finest days until now.
Saturday 3nd of September 2005

Place: Yangshuo to Guilin and down to Zhanjiang, China
Climate: misty, no sun but warm, around 30 0C
Health: Both Henk & Anit in good condition
Thought of the day: No special thoughts, looking forward to our next destination: silver Hawaii-like beaches of Sanya (Anita); It's ganna be a loooong trip. I hope the Hotel is nice (Henk)
Today the thirst thing we did, was to pack our backpacks since we had to check out. We left our bags at the reception and went to a French type restaurant to have some fresh baguette and croissants.
The rest of the day until our departure we decided to spend on updating of our website. At 9pm we had a train (assuming we get the tickets for today) departing from Guilin to Zhanjiang (10 hours), so we left beautiful Yanshuo at 19.00h.
At 20.00h we arrived perfectly in time at the train station of Guilin, only at the ticket office no more soft sleeper tickets to Zanjiang, only hard seats! This looked not so good, better to say terrible. Afterall it might have been better to take the sleeper bus from Guilin directly to Sany? Nahhh, the sleeper bus was also not so nice (we looked into one). You all have a bed in the bus, it's all staple beds and the one we checked was quit smelly.
For sure we would have luck on the train to change our tickets to soft sleepers, like last time. Let's hope. After waiting for one our in the waiting hall, we had a delay of one hour. Also here like everywhere else in the world you could here the grumbling of the people regarding this delay. The delay was finally more than 1.5 hours and the train was quit full. We asked several train staff and finally one man said "follow me" in Chinese and we had to wait in the train restaurant. After about 10 minutes Henk followed him again to a kind of ticket office in the train where many people where trying to and trading their train tickets. When we came we got help immediately and received our soft sleeper tickets. In between all this action a girl walked up to Henk and her boyfriend made some pictures of her with Henk. Henk (of course) felt like a movie star and posed with her.
Finally as we were settled in our coupe we watched the movie "Super Size Me" on our laptop. It's all about one guy eating for 30 days nothing but MC Donalds. MC Donalds for breakfast, for lunch and for dinner! In the mean time he was supervised by some health specialists. Additionally the movie showed the eating culture of the US and what the influence is of the fast food companies. It's an amazing movie and shows some interesting points. Especially the weight the guy is gaining in 30 days and how some of his bodyparts get really damaged (eg his liver).
After Anit went to sleep Henk watched a second movie and then also went to sleep.

Sunday 4th of September 2005

Place: Zhanjiang to Sanya, China
Climate: In the morning no sun, but when we got closer to Sanya more and more sun, around 30 0C
Health: Both Henk & Anit in good condition
Thought of the day: Half way, Sanya we're almost there (Henk)
At 07.30 we arrived in Zhanjiang. At the station were already many people offering hotel rooms to us. Outside we found a company offering bus + boat to Haikou, but they where so pushy, we didn't trust them and so we tried to take a taxi together with 2 Chinese girls we just met and who spoke some English. The taxi driver was not nice and didn't want to lower his price and the people of the other organization got involved and it looked like a big mafia.
Then we saw the guy and the girl again who at first wanted to bring us to port to take the boat to Haiko. They looked the most honest of all and we agreed on 40 RMB per person. It was a relative small and old bus completely packed and we nearly fitted in. Then it happened. We just wanted to drive away and the people of the 'competition' came with the police and try to block the bus. This was really mafia.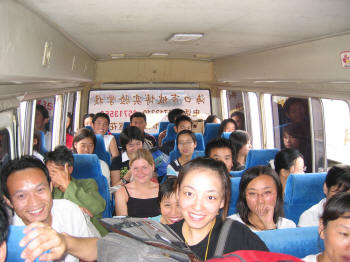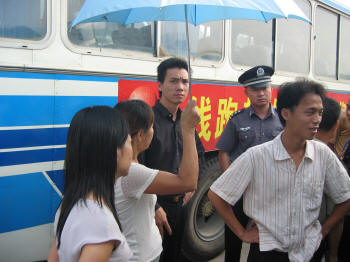 After a 20 discussion stop, we finally got approval to move on. Sanya here we come! Hoho, not yet, first 3 hours with this bus, than 2 hours with the boat and than another 5 hours with the bus.
In principle the bus ride was fine, but along the way Henk (and some more people on the bus) some something shocking. On the other side of the highway in the middle was a woman laying naked! Henk could really see if she was dead or she had prepared herself for suicide?!? An image you will not soon forget. Horrible. The bus driver simple drove on and in 3 hours we arrived a the port where we bought boat tickets (half price for Anit with her student card).
At Haiko the bus was organized better. No hassle or rip-off, just a simple bus ticket office where we bought our tickets. We bought some food and water and in the evening at about 19.30hours we arrived in Sanya. There we took a taxi to the hotel. The hotel was gorgeous and brand new. They just opened 8 months ago. It simply was like a resort ought to be. Because we were at off-season time, the price was relative low for such a 5 star resort (40 Euro per night for a room) and the hotel was more or less empty. We checked in, got a nice room with sea-view and had a dinner in the restaurant.
Now after 26 hours traveling by bus, train, bus, boat, bus and taxi it was time to go to bed and sleep and so we did.

Monday 5th of September 2005

Place: Sanya, China
Climate:sunny and about 33 0C
Health: Both Henk & Anit in good condition
Thought of the day: It's so nice to be here! (Henk)
We got up at 07.30 hours, put on our swim suits and the bathrobe and went first for the beach. Ahhhhhhhhh, nothing better than a morning swim in the sea. The temperature of the water was so nice. After a good swim we went for the swimming pool, had a few rounds there dried ourselves and took breakfast; fresh made omelet, fresh fruits, fresh coffee, fresh bread and lots of Chinese food as well.
After breakfast we went back to the swimming pool to discover further. The pool was so big and nice, no more words, we just show you some pictures.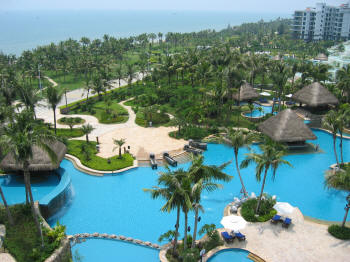 Next to the swimming pool was a hot spring pool filled with little fish. You could go in and the fish would start to 'attack' you. At first it tickles, but as you get used to it, it feels like a massage. Especially when we went with our backs into the water.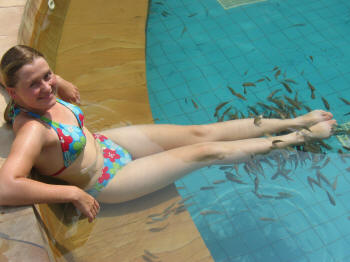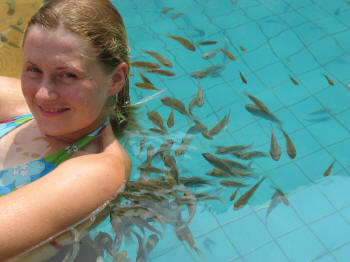 The rest of the day…………., well the rest of the day we spent at the beach, pool and beach. In the mean time we had a cocktail or a cold Corona.

Tuesday 6th of September 2005

Place: Sanya, China
Climate: sunny and about 33 0C
Health: Both Henk & Anit in good condition, only Henk some stomach problems again, poor Henk
Thought of the day: It's so nice to be here! (Henk)
Today we got up at about 08.00h. The sky was nice blue and this time we only took a morning dive into the pool before we had for the breakfast buffet. After breakfast we went to the beach, pool, beach and so on. In the mean time we worked on our website and our further plans, what to do next.
Basically we had 3 options; fly directly to Chengdu (80 Euro p.p.), but then miss the Yunan province (Dali, etc) which is said to be the most beautiful province of China, fly to Kunming, so see the Yunan province but skip the nice train ride from Nanning to Kunming or the 3rd option go all the way. This last option would mean again a long bus drive and we found out the train from Nanning to Kunming only goes in the afternoon or evening, so you do not see much. We decided to take option 1, fly to Chengdu, cost wise the best way to travel and we would save time which for sure we would need on Nepal and India. So said, so done and later that afternoon we booked our tickets to Chengdu for the next day.

Wednesday 7th of September 2005

Place: Sanya, China
Climate: sunny and about 35 0C
Health: Both Henk & Anit in good condition
Thought of the day: It's sad to leave this nice place, but we finally getting closer to Tibet! (Henk)
We didn't woke up to early today and headed at 09.30 straight for breakfast. For the rest of the day we were in no rush, since the plane was at 21.40h, the airport only 20 minutes driving and we arranged with the hotel check-out at 18.00h.
It was not an exiting day, but a such a place like Sanya all the days are great.
In the evening we checked out waited in the lobby. A live band started playing and we where the only audience. You wonder way in off-season time they hire a band in the lobby?
At 20.00 we left the hotel by taxi.
At the airport all things went smooth, only a delay of 1.5 hours. I thought they only had them in Europe? The bad thing was that we did not organize a place to stay yet in Chengdu. LP gave some good recommendations like Sam place, but was there a room free? Well we would all find out after arriving in Chendu so goodbye fantastic Sanya!