China (Beijing)
Sunday 7th of August 2005

Place: Beijing, China
Climate: Heavy hot air, cloudy about 28 0C
Health: Both Anit and Henk in good condition.
Thought of the day: Jesus! All in Chinese language!!! (Anita); Finally in Beijing, hope we have a nice hotel (Henk)
At 3pm we arrived in Beijing. We said good-by to our train neighbors and went to catch a taxi. When leaving the train station we were 'attacked' by several Chinese men who offered us a taxi. Since we were warned by Migaa that the prices for tourists are very high and must always be negotiated, we kept saying: "too expensive". Finally one of the guys took us to the hotel, but on the way tried to increase the earlier agreed price of 70Y (7 Euro). We said: 70Y or stop now – we get out. And it worked! We paid the agreed sum of money.
We stayed in Holiday Inn Downtown Beijing. At first we received some strange looks from the staff, when entering with our backpacks (like this time in Scotland when we asked the reception where we could put our bicycles). It was a very nice hotel, with a swimming pool, that we tried out immediately after check-in. The room was also great, specious with separate living and bed room (we received a free upgrade to junior suite). Not so bad for 54 Euro per night.
This evening we went out to try out some Chinese food and we ended up in the "Dumplings King" (Krol Pierogow in Polish). In a broken English the staff offered us some dumplings. Anita chose a non-meat version and Henk had a chicken. First experience with a Chinese food was a total failure! Anita got meat dumplings and Henk got a cold chicken. Right, let's go to another restaurant to have something to eat. No, that's fine, we want to lose weight anyway! When we came back to our hotel we had to do the washing. As the real poor backpackers we washed our clothes in the soap! Henk made line in the bathroom where we hang the laundry. The hotel staff must have been surprised when they saw the lines in the bathroom of this junior suite!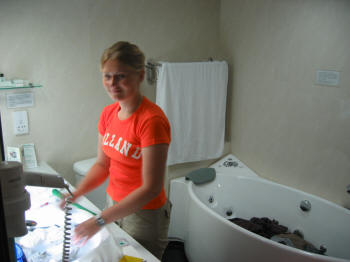 Monday 8th of August 2005

Place: Beijing, China
Climate: Heavy hot air, cloudy about 28 0C
Health: Both Anit and Henk in good condition.
Thought of the day: Where is the sun? Is it always so cloudy in this city? Is it smog that doesn't allow the sun? (Anita); Ooooops time to work on our web site, when? (Henk)
So, the first day in Beijing! We go sightseeing. Well instructed by the Lonely planet we took a subway to get to the main square of Beijing (also the biggest in the world): the Tiananmen Square. There we made our way to the Forbidden city, the imperial palace during the Ming and Qing dynasties. It was however not that impressive as we thought. In fact most buildings were under reconstruction/renovation. All in preparation for the 2008 Olympic Games in Beijing. Because of this, it is better to come and see Beijing after 2008.You need approximately 3 hours to walk through all the buildings of the Forbidden City. What is nice, is to take the audio guide spoken by Roger Moore. He gives detailed insight on most of the places you pass.


During our walk in the Forbidden city we were pleasantly surprised by a............Tennant 8410. So far away from home and work, but Tennant seems to be everywhere.



Afterwards we wanted to take a Riksha back to Tiananmen Square but after being attacked by several drivers offering different prices we decided to (safely, but hot and crowded) take a bus and postpone a Riksha experience to another day. We had a lunch in a typical Chinese restaurant (Attempt no 2). This time Anita ordered asparagus with mushrooms and rice – delicious! Henk had very spicy chicken with red pepper (warm this time) plus slices of beef cooked with green pees and sweet onions served on hot stones. Additionally for desert we had sesame balls. It was tasty but we ordered too much. Anyway, this attempt was more successful than the Dumplings King!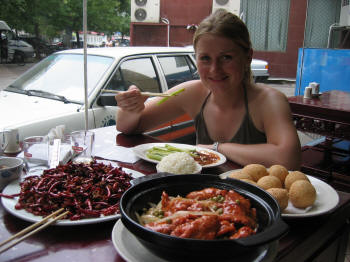 In the late afternoon we went to the Beijing railway station to buy the train tickets to Shanghai. It took us a while to find a ticket office with English speaking person. Finally we decided to order the tickets in our hotel since the price was only slightly higher and at least we could explain what kind of compartments we wanted. We have to admit dear Flavia and Kate (our Chinese friends from Belgium) that your English is perfect in comparison to your peers in Beijing. We miss you a lot here!!!
The climate here is completely different than in NL or Poland. It's heavy making you more tired, there is little wind and sun. Maybe because of this different climate we fell in deep sleep after we came back in hotel this evening.



Tuesday 9th of August 2005
Place: Beijing, China
Climate: Rainy and cloudy, fog, 27 0C
Health: Both Anit and Henk in good condition.
Thought of the day: Strange weather here, so hot and so foggy (Anita); Rainy day, now we really work on our web-site (Henk)
We got up early in the morning with full energy to further discover Beijing. However, due to the heavy rain, we had to change our plans. We decided to work on our website since especially in Mongolian countryside there was no possibility to connect to internet or charge our equipment. Later in the afternoon we went out to visit Beijing in the night. We went to a Hutong. Hutong is the name of the old Beijing districts where you can see how the real Chinese people live in their traditional houses. Far from tourist attractions and the crowded modern city, you face here the old, grey buildings and people in their daily activities. It seems dirty and a lot of different smell (many of them not nice). Quite impressive. To make this trip even more exotic we chose a real local Chinese restaurant to have a dinner. No English menu, no English speaking staff. Cool! Fortunately, the menu had pictures so we simply could point with a finger what we wanted. God, they didn't even understand COLA / COCA- COLA / COKE !!! Fortunately we had Flavia's dictionary (Flavia, you're our angel!); it helped to explain that Anita doesn't eat meat and she got Noodles (spicy like a hell) and Henk got prawns (also spicy!) Is all Chinese food always so spicy???

Wednesday 10th of August 2005

Place: Beijing, China
Climate: Cloudy, fog 30 0C
Health: Ok, but the Chinese food was too spicy for our western stomachs, we had some minor digestion problems
Thought of the day: I love markets, I've never bargained so hard in my life! (Anita); Climbing, climbing, climbing; kope, kope, kope!(Henk)
Today we got up at 7 in the morning. We go to see the Great Wall of China! We chose to go to Samatai – The Great Wall (110km away from Beijing) where there are not many tourists and the nature is beautiful (according to Lonely Planet and this is true). We first took a subway (the best and very cheap means of transportation in Beijing, the ticket costs 3 Yen per person (one trip) = 0,30 euro).
From there we wanted to take a mini bus as described in the Lonely Planet, but we were first attacked by a man whose price was sky rocket high and then in a much friendlier way approached by a Chinese girl who offered us transportation to the Great Wall at Samatai. She called her friend/husband and he showed up with another couple, from…..the Netherlands (these guys are everywhere, Anita). We agreed the price, 40 Euro for all of us 2 way, which means about 6 hours drive in total. The guy started to drive and he was really crazy! He drove fast (how fast we cannot tell since his speedometer was broken) and we all prayed that the rest of the car was in better condition than the speedometer. He passed cars left and right and if people would not move he would use his horn that sounded like a police car horn (whioe, whioe, whioe). Also no respect for bicycles, simply for nothing. One other thing to mention is that mini buses are not only mini from outside, but also from inside, so no real sitting comfort. After 3 hours driving we reached at our destination.
The climbing was a great challenge, terrible steep and double tiring in such weather (hot, foggy and high humidity). We climbed for 2 hours up and down the stairs, and on the way back we took a small train down and the cable car. A great experience, highly recommended. Also interesting is that all stairs are different and like we said some are more steep than others, sometimes there are no stairs and the size of the steps varies.
When we came back to Beijing (this time the women drove and no more horns or taking over on right side), we took a Riksha. A must in China! Super nice. By Riksha we went to the Silk Market – a place where you can buy clothes (Hugo Boss), jewelry (Dior), watches (Rolex, IWC), Backpacks (North Face), etc. all branded, but fake of good quality.
At this market all the sellers are extremely pushy (Where are you from, I like you, you are beautiful, looki looki looki and cheap cheap cheap are some of the sentences they use mostly), they want you to buy of course and very often when they see a foreigner, they propose a cosmic prices, so watch out and bargain! We think the best strategy is when they ask hundred to offer 5 and than the game begins. Also don't be afraid to stick to your price and walk away. The article you want will probably be also there 5 stands further. One thing a Chinese trader will not do is selling at loss, so there are limits of bargaining.
Also here it is possible to have clothes custom made like suites, silk dresses, cashmere winter coats, etc. We only bought some small things and decided to wait till Shanghai, where there are similar markets.
Our tip to you is, get your visa for China, find a cheap flight and go to China with nothing (No suitcase, maybe only a toothbrush and some extra underwear). Make sure you have some money and come back with all the nice stuff you need for a bargain. It will give you a nice time and if you buy enough it will for sure pay back your flight!
On the way back to hotel we made a stop by the American restaurant Sizzler (no Chinese food today) where we had a nice (western) dinner.

Thursday 11th of August 2005

Place: Beijing, China
Climate: Cloudy, foggy, 33 0C
Health: Ok, we still feel the Chinese food in our stomachs, especially Henk
Thought of the day: I have never sweat so much in my life, not even in the hottest sauna! (Anita); With this type of weather every day, Beijing is not showing me the best (Henk)

Today we got up at 7.30 in the morning. We ordered one breakfast in the room which in fact was enough for two (we still felt the Chinese food in our stomachs). Since today we had to check out, we first packed our goods and left them in the hotel's locker. We still had one tourist attraction to see: the Summer Palace, a summer residency of the emperor. To get there we had to take metro and bus. The Summer Palace is huge, 290 hectares, of which more than 70% is water. To see all the buildings you need for sure more than one full day. We had a couple of hours. After a short walk, we decided to take a pedal boat, since it was so hot and we hoped to get cooled by the water. This was however not the fact. The water in the lake was very warm, the air was very humid and we sweated like a hell. Anyway, taking the boat was actually the better idea, because climbing the stairs and visiting all the palace buildings was very tiring because of the weather and many Chinese tourists. The Summer Palace is very beautiful, but as said due to the weather we could not see the best of it.
After having visited the palace, we had to rush back to the hotel to pick up our backpacks and we went by Metro to the train station to take the night train to Shanghai. In the Metro we got a lot of attention. Probably the Beijing people have not seen so many foreigners with backpacks in the subway.
Beijing was very crowded and due to the very foggy and hot weather quite tiring. We saw all the "important sightseeing spots" with the Great Wall being the most impressive cultural monument. We also had impression that the whole city prepares itself for the Olympic Games in 2008. We believe that the city will look like completely different (much nicer) after this event. Good-by Beijing.