Sydney to Brisbane

Tuesday 21st of February 2006

Place: Wollongong to Forster, Australia
Climate: hot and sunny with some clouds, 320C
Health: Both in good condition
Thought of the day: Where are the kangaroos? (Anit) Finally some driving of our own (Henk)

We woke up early for a nice last breakfast and packed our stuff for the tour in Australia.
In the morning we said already goodbye to Janet who had to go to work. We missed Karl since he starts always early in the morning.
Tony took us to Hertz to pick-up the car and Henk drove back. In the beginning it is not so easy. The most difficult is changing the gear and using the indicators. Both of them are on the 'wrong' side of the steering wheel. The driving is okay as long as you can see other traffic. When you are alone on the street, you tend to go on the right side, which is of course wrong here.
It was a short drive back to the Weber's home. We packed our backpacks and put them into the car. There was still one last thing to organize before we left. We asked Amanda if she could join us downtown, since we wanted to buy some flowers for Janet. This was our last test drive. With clear instructions from Amanda we managed to get to the shop and back of course.
So, that was it. We said goodbye to Tony and Amanda and off we went, northern direction.
Henk drove the first part of the day. Tony gave us directions how to avoid Sydney and it all worked out perfect. After Sydney we tried to take the scenic routes, which are clearly marked in Australia. After Sydney Anit took the wheel and also her driving went good.
When we got to Forster we decided to call it a day. We found a motel, nothing special at first sight but it was the cheapest we could find. It cost 40 AUD$ per night and it was quite empty. It was with shared bathroom, but all was good clean and there were almost no guests. The location of the motel was very convenient. It was close to shop/restaurant street. For the evening meal we chose a Mexican restaurant this time mostly because Anit's second best cuisine is just Mexican! It was delicious!


Wednesday 22nd of February 2006

Place: Forster to Woolgoolga, Australia
Climate: sunshine, 330C
Health: Both absolutely fine
Thought of the day: I want to see kangaroos! (Anit) Driving on the left is quit okay (Henk)

We took a shower in the morning and went to town for a nice breakfast. Of course not so nice as at Tony and Janet's place, but still quite tasty. We had coffee, some fresh juice, Anit had cereals and Henk bacon and fried eggs.

After breakfast we checked out and hit the road again. We are now both convinced, that we have to come back to this country and explore it for longer. It's relaxed and tourist-friendly. For now, it's good to just have a bit of a nice taste.
Again the route was nice. We took some scenic drives and drove up to some beaches for gorgeous lookout.
Always there was the question in our minds: can we see the big white sharks??
To feel the real family life we decided to stay in a cabin home for the night. It was 60 AUD$ and came with 2 beds for the kids and a good equipped kitchen. All for the happy families. Don't think please that we like these family parks...and this family feeling....no, it's just that such places offer reasonably cheap accommodation.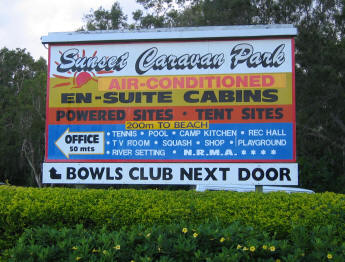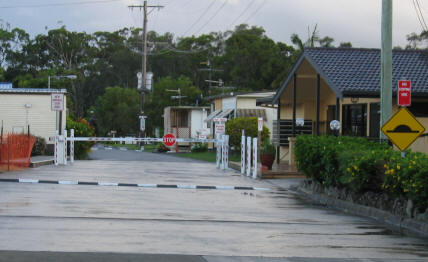 In the evening we went to the beach to have a look and had a wine and beer at the local bowling club. Actually these clubs are an Australian specialty. They are everywhere and they are the centre of social activities. For us they looked a bit old fashioned, though.

Thursday 23rd of February 2006

Place: Woolgoolga to Surfers Paradise (Gold Coast), Australia
Climate: hot and sunny with some clouds, 320C
Health: Both in good condition
Thought of the day: My wish of seeing kangaroos has just come truth! (Anit) Where is the sun? (Henk)

Our last full day of the trip. We left early since we had still like 500 km to go to Brisbane and the plan was to deliver the car Friday morning before 10 AM. We skipped a few scenic routes and drove straight up the Gold Coast. The beach was gorgeous here, but the weather was not sogood. Well, anyway we still wanted to see kangaroos and koalas from up close, so we went to the wildlife park in Curumber. This is a wildlife sanctuary where you can see all Australian animals. Ok, this is like a zoo, which we normally don't like, but this time, since we were in Australia only for a short time and didn't have possibility to see the animals in their natural environment, we decided to visit this park. We arrived about noon, but luck was on our hand. We found out that the time here is one hour earlier than in Sydney. So we still had enough time time to see the animals. The open air park had of course no roof so we were caught by the heavy rain. But just a 10 minutes later the sun was back and it went on and of like this. Mmmmh, rain season also here?
We saw all the known Australian wildlife; kangaroos, koalas, wombats, dingo's, crocodiles and more. The best we like were the kangaroos. You could actually touch them and feed them. And they are absolutely tamed here.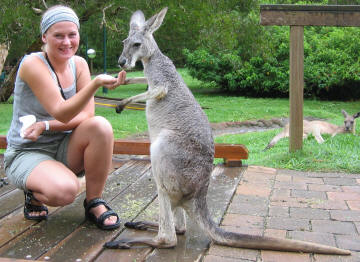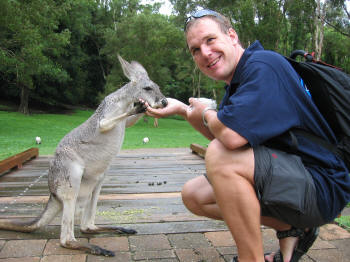 Of course not to forget about the koalas. Most of the time they sleep. 'When they don't sleep, they eat.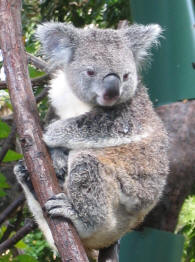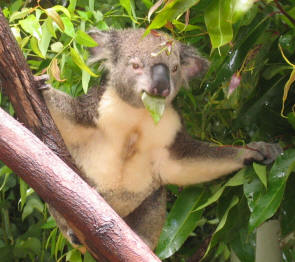 When we came to Surfers Paradise, the city at the Gold Coast, we went to the tourist office and the lady there organized a relative cheap motel for us in the middle of the town. The location was perfect; just in the middle of THE main street. After checking in it was unfortunately to late for a swim in the ocean, and also the weather was too rough. In place of swimming we simply had a look and later on went back for a shower.
That evening we had a fine dinner on the boulevard and a bit too much wine...when we came to McDonald's for ice cream after the dinner, we couldn't stop laughing....and the guy behind the counter looked at us very suspicious. Well, we better go back to hotel, before the troubles begin.
Dobranoc!