Yucatan province, Mexico

Saturday 13th of May 2006

Place: Puerto Vallarta to Merida, Mexico
Climate: sunny and warm, 300C
Health: Both Henk and Anit feeling good
Thought of the day: Bye bye Puerto Vallarta and hello Merida (Henk) It was my worst flying experience ever (Anit)

We left early in the morning to the airport, which was luckily close to the hotel. At the airport we checked in and all went smooth.
First we flew to Mexico City. There we waited a bit for our connection to Merida. All fine in time. The plane to Merida took off. It was about half full. It should have been only a flight of 2 hours, but the weather changed all. When entering the airspace in Merida we hit really bad weather. The plane was shaking all over. It was terrifying. The pilot climbed again and got above the clouds. After that he made like 3-4 more attempts to land in Merida, without success. The storm was too big and the plane had a lot of turbulences. We really had to hold into the seats.
We were informed that he would reroute the lane to Cancun and wait there for further instruction.
At Cancun airport we had a fine landing and the weather was perfect. There the pilot waited for the latest weather report in Merida. He also fueled up and after 45 minutes we took off for our next attempt to land in Merida. Again rough weather and only after 3 attempts the pilot managed to land the plane. We had already some experience of flying but these things do not make you happy, believe us. Well, we were back save on the ground, thanks God.
From the airport we took a taxi as advised by the staff of the guesthouse we had booked in Merida.

Our guesthouse, the Nomad hostel, was really nice and clean and the staff was friendly. They gave us good information what to do, where and what to see.

Later that day we had something to eat and we went to an open air concert called "The Mexican Nights". It was full of folklore dancing and singing, the real introduction to the Mexican culture.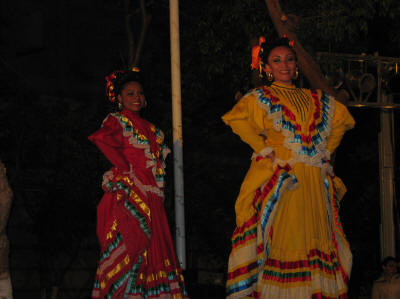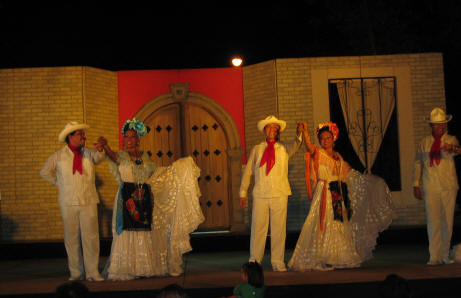 That was a great evening.

Sunday 14th of May 2006

Place: Merida, Mexico
Climate: sunny and warm, 300C
Health: Both Henk and Anit feeling good
Thought of the day: Merida the cultural center of Yucatan (Henk) I love this place, wherever you look, they dance...(Anit)

As Merida being the cultural centre of Yucatan, it has to offer a lot of cultural shows. But what really amazed us, were the local people who turned the streets into a dance floor on Sunday and kept dancing till the late in the evening: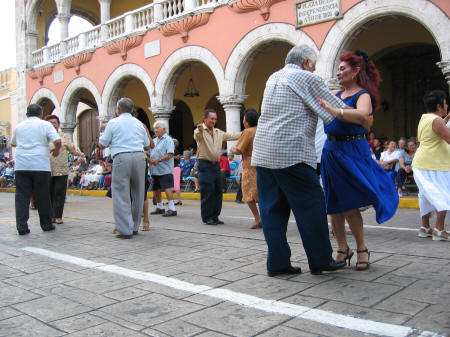 We also joined them but, to be honest, it didn't go well because we didn't know how to dance salsa. This is a perfect example how can people in a very simple way bring a special character to the city and enjoy themselves. There was one band playing life music and they put chairs along the street where people could sit while not dancing.
We wandered around in the central park and enjoyed the special climate. Later that day we had lunch at the very nice restaurant and again walked around and discovered the city step by step. There are nice churches built during the Spanish colony: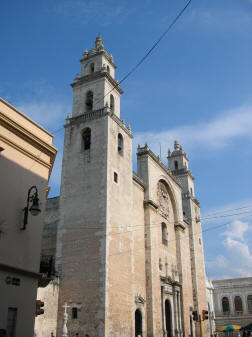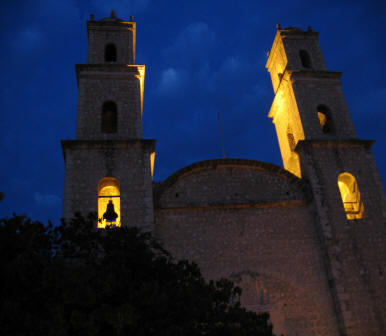 In the evening we decided to go to the cinema to see the film Mission Impossible III.
Monday
15th
of May 2006


Place: Merida, Mexico
Climate: sunny and hot, 320C
Health: Both Henk and Anit feeling very well
Thought of the day: Today we have the first salsa lesson at our hostel (Anit)


Today we decided to work on the website. We found a place where we had good connection and spent there a couple of hours. Later we had a bite in the city and visited the internet cafe again. At 7pm the salsa lessons started. The teacher danced really good. There were about 20 people all together from different courtiers and we learned couple of basic steps. It was really good. It was our first experience with salsa and we really liked it. In the evening we went again to the central park where there was a concert of Mexican dancing. Amazing, again dancing. We, especially Anit, loved it very much. We sat beside two older women who tried to say something to us in Spanish but we couldn't understand. But when Anit said she was from Polonia, both women reacted very spontaneously: Oh, Polonia, Papa, Papa. That was such a good moment of understanding without speaking the same language...

Tuesday 16th of May 2006

Place: Merida to Valladolid, Mexico
Climate: sunny and hot, 320C
Health: Both Henk and Anit in good condition
Thought of the day: I had no expectations of Mexico, but it's nice with friendly people (Henk) Merida is one of these places where you really want to stay for longer without being bored (Anita)

Today we left our Nomad Hostel and exchanged beautiful Merida for the city called Valladolid. We took the 1st class bus (only 2 US$ p.p.) to get there. Around 12 we arrived at our next hostel, Candalaria. Nice place and also very clean. We booked a room for 2 nights for 195 Pesos. We dropped our luggage in the room and took a short bus to Chichen Itza.
Chichen Itza are well know old Maya ruins. Impressive architecture in the middle of the jungle. Anyhow, it is so popular that more or less you could follow the crowds. The Mayan people lived here from 900 AD to 1200 AD and have build pyramids, bathhouses, temples. Just look at some pictures: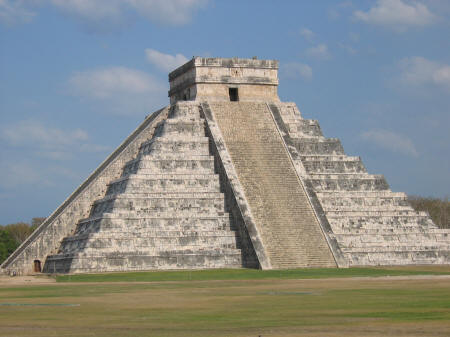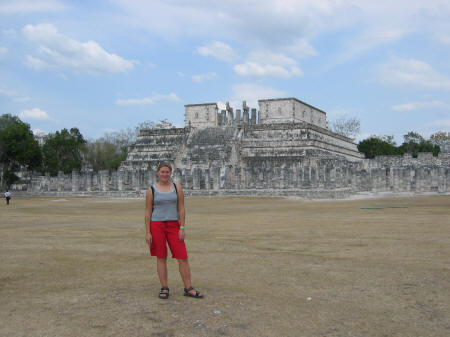 We wandered around for 3 hours or so and then we went back to the main gate to take a break, have a bite and wait for the sound and light show which would start at 20.00h. It was very hot, so a nice cold Corona would be welcome. Unfortunately the restaurant was closed. No problem we headed to the closest hotel and had some drinks and a small bite there. During the bite we were visited by some friends!!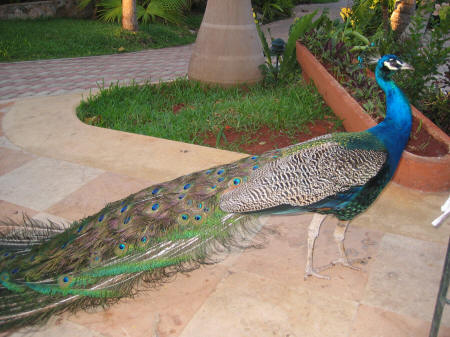 The sound and light show was not impressive, but nice and it gave us some more insight into the live of the Mayan people.

After the show we took a cab to the bus stop and from there we had to wait 40 minutes for the bus. When we finally got back to the hotel it was late and the bed time.
Wednesday 17th of May 2006

Place: Valladolid, Mexico
Climate: sunny and hot, 320C
Health: Both Henk and Anit feeling very well
Thought of the day: Finally we discovered the cenotes my brother was talking about (Anit) Bloody bastard this bike rental guy, actually the first unfriendly Mexican we met!?!?!? (Henk)


We woke up at 8.30 this morning. The plan was to rent bicycles and go to the cenotes 7km west from Valladolid. Good plan, let's have breakfast first. In the hostel you get a free continental breakfast including in the room price but don't expect the real continental breakfast. Here you get coffee, bread and butter. Not bad, isn't it?
We joined one English couple for the breakfast and they happened to travel for a while as well. So as you can imagine, we talked about the traveling adventures and finally we left to the cenotes 2 hours later than planned. No worries. We rented bicycles, got a map and off we went to explore the unknown. The route was ok, they even have here the cycle route but there was a lot of rubbish along the road what we didn't expect and didn't see in the city. It made us think of India…
It took as half an hour to get to the first cenote. We parked our bicycles, bought the tickets and when down…because cenote is a lake in the cave. The first one, cenote Dzitnup, had a small hole at the top from where you could see the light beam made by the sun. The rest of the cave full of stalactites hanging from the ceiling was dark but lightened by the lamps to enable swimming. There were some locals and tourists swimming inside. Have a look at the picture: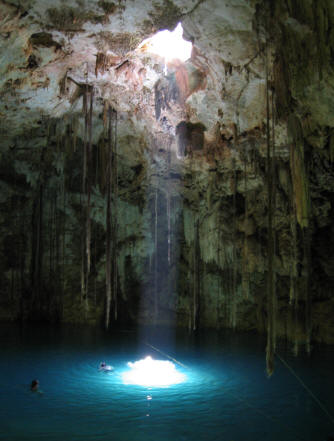 When we first entered the water it was a bit scary…even for the advanced divers! After a while we got used to the cold and dark water. We saw some fish and many birds at the ceiling. The stalactites were awesome and the small light beam made it a very mysterious place. Worth visiting!
A couple of hundred meters further was another cenote called Samula. Nobody was there when we entered the cave. It was a bit different mainly because of the huge roots of the poplar hanging from the ceiling to drink from the cenote: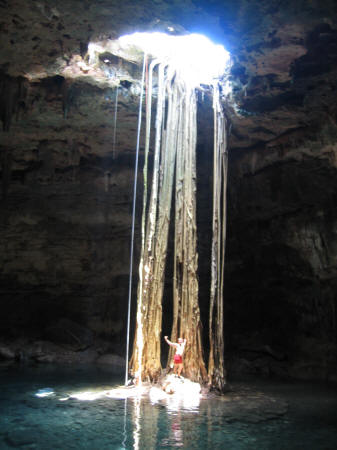 Wow, great view. Again we saw fish and many birds. We touched the roots and swim in the water.
After 2.5 hours we went back to the city. The bicycles we rented were old and somehow all the parts were loose so we had to ride carefully. Luckily, we made it and gave them back to the owner. Here for the first time in Mexico we faced dishonesty and cheating. The owner simply changed his mind and in place of 5 pesos per hour wanted to charge us double. It doesn't matter that he has a big board on the street saying "bike rental, 5 pesos per hour" and that he confirmed the price before we left… well, we told him he was dishonest and a bad man doing this, but he only had his pesos in mind so after some discussion we gave up…
In the afternoon we first bought pizza and watched the football. It was Champions league final so Henk had to see it. Anita did the laundry and worked on the website the rest of the afternoon.
Late we went to the bank to change some money and to the bus station to buy tickets for tomorrow. We plan to go to Tulum.


Thursday 18th of May 2006

Place: Valladolid to Tulum, Mexico
Climate: sunny and hot, 330C
Health: Henk in good condition, Anit a light cold
Thought of the day: What a disgusting place this hostel (Anit) With such a hostel yak and such a terrible price for this hostel, the fun goes away quickly (Henk)


Bright and shine we woke up. We showered. It's a lovely place this hostel (Candalaria) and so clean, but we must move on to our next destination Tulum. After the shower some delicious toast, brush our teeth, pack the last stuff, check-out and off we go.
It's just a 10 minute walk to the bus station and the weather is still cool. Around 09.00h we arrive at the bus station. The bus has 15 minutes delay and we depart for Tulum around 09.30h. The bus system in Mexico is excellent, but there is one but,……why do they turn up the airco's so bloody high!!!! We were already prepared and brought our sweaters, but still it was freezing!
After 2 hours we reached Tulum. The hostel (The weary traveler) was one block away from the bus station. We had already bad references from other travelers, but we already had booked the place and wanted to see ourselves. The place looked a bit sloppy. We could choose from two rooms. One was rough with concrete floor and walls. The toilet and shower where covered with some plastics. The other room looked better. The floor was smooth and there were more beds to put our stuff on. We took this one. It didn't look good but it was anyway only for 2 nights.

After check-in and a nice lunch (good Pollo for Henk) we took the mini bus to The Hidden Worlds. This was the aim of our stay here to dive the Cenotes.
At the 'Hidden Worlds' we agreed to make a 2-tank dive for tomorrow starting at 11 in the morning. They would pick us up from the hotel. Nice.
We came back to our hostel where Henk worked on the internet and Anit took a rest. She was not feeling so well. Probably the airco in the bus got her.
Later that afternoon Henk joined her. Then we heard piep, piep (actually not, but how else to describe it?). Actually we heard a lot of noise and then we saw them, big rats in our room. The room was already bad and now this. We decided to check for tomorrow night an other hotel. Here we already paid 300 Peso, so for a bit more it must be able to find something decent. So said, so done. We left the hostel, walked down the street and found another hotel called Nero di Sole, Italian owned. We asked for the price and to our surprise it was also 300 Peso. We saw the room and it was a difference of night and day. We reserved the room for the next day and told the lady that if we could manage we would come already tonight. We even got 10% discount if we would stay 2 nights.

Back to the Weary traveler. We complained about the rats and they apologized. We could get another room, but we wanted to leave. Finally we agreed to pay 100 Peso for the usage and checked out immediately.
We took our stuff and went to Nero di Sole. What a difference. They also had a nice restaurant open on the street. We finished the evening with some drinks and went to bed for a good night rest!!!!

Friday 19th of May 2006

Place: Tulum, Mexico
Climate: sunny and hot, 300C
Health: Henk in good condition, Anit a light cold
Thought of the day: My brother was right; diving in cenotes is a great experience. (Anit) Sometimes it seems the trip has almost finished (Henk)

Today was the day: diving in cenotes. Cenotes, in other words an underground caverns system, are typical for Yucatan peninsula and probably found never else in the world. We were supposed to make two dives in the cenotes today. After delicious breakfast at hour hotel we prepared sandwiches for the lunch and we packed the things for diving. The car from the dive shop Hidden Worlds picked us up as agreed at 10.30am. When we arrived there we put on wet suits and the rest of our equipment was already prepared for us.
It looked like we were the only divers; the rest came for snorkeling.
To get to the cenotes we had to drive for about 10 minutes through the jungle. They have a special "Jungle mobile" to transport people to and from cenotes which is basically a kind of truck with open engine and open roof like you can see in the picture: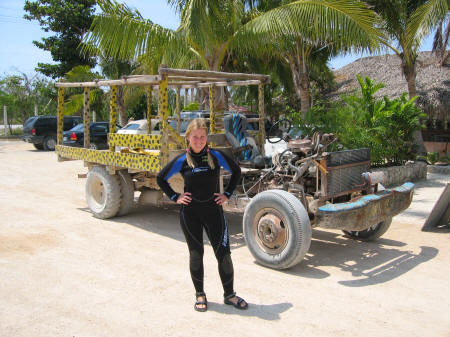 After a bumpy trip we came to the office in the middle of jungle: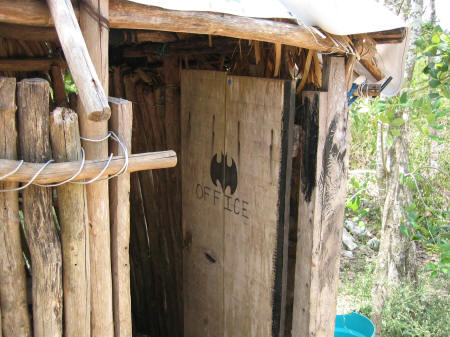 We met Viktor, our dive master there and two other divers who already had been in the caves. We got a good briefing about the two dives we were going to make today and went down to the cavern call the Bat Cave, our first dive site: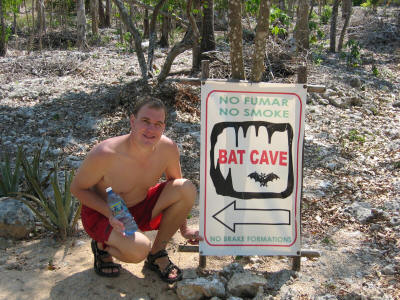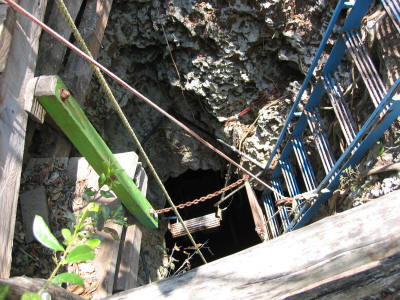 At first sight it looked scary…Dark, cold, and very quiet…
Anit was double scared because she had cold and she was not sure whether she could equalize her ears properly. Anyway, we were there to experience something new…and we had to over win our fear…The first dive we did with 5 people all together. We got torches because in was generally dark there. It looked a bit like a night dive which we did before so it didn't really look that unfamiliar. Once we entered this underwater caverns, we found ourselves in another world…The crystal water was so clear that you almost didn't notice it at all; only the bubbles reminded you that the water was everywhere…It was cold. Sometimes when there was some light coming from in between the rocks we had to hide our own light and admire the natural green-blue-grey colours of the water. You swim among the stalactites and stalagmites. Sometimes the swim troughs are so narrow that you really have to streamline yourself in order not to get stuck.
When we finished the first dive, we changed the tanks and prepared equipment for the second dive. When we came back up out of the cave it was nice to sit in the sun.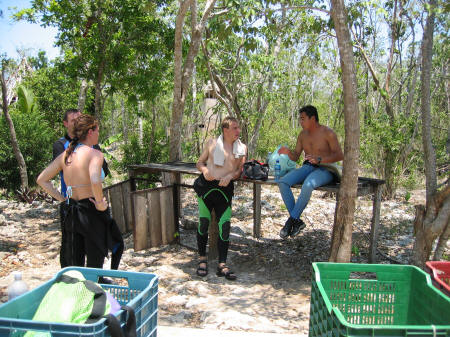 We had a nice chat with Wiktor, the guide and went down again for the second dive. This time there were only two of us diving. We did the Dos Ojos (Two Eyes) cenote this time. Because of the fact that our bodies already lost temperature during the first dive, we got another wet suit to put on for the second dive. The dive was amazing. Especially when you reach the first "eye", the small sinkhole, you look at it form down the cave and you see it like a mirror. It is difficult to describe but you loose your orientation and you don't know any more what is up and what is down. You are floating in the different world…
We finished the second dive very impressed. It was worth the money. When we went up again out of the cave we had a look at the "eyes" from the other side: from the surface: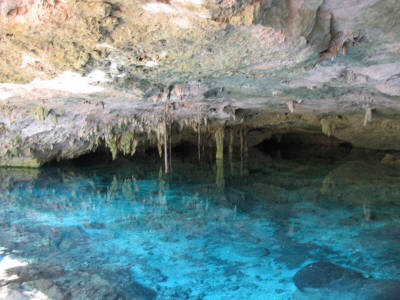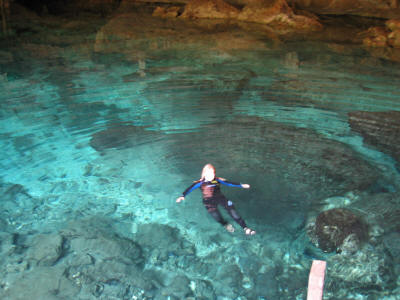 You look at it and it seems somehow similar…
We arrived back at the dive shop around 3pm. The driver was already waiting to bring us back to the hotel. Really good service but, well, you pay for this. When we came back to Tulum, we checked our e-mails, went to the bus station to see the bus connection and…decided to stay one more night in Tulum. We liked the place, the hotel and food were good and we didn't see the Caribbean beach yet, so we had to do it before we would leave.
In the evening we had delicious dinner at the hotel's restaurant and as always after a day of diving we could stop talking diving.
Saturday 20th of May 2006

Place: Tulum, Mexico
Climate: sunny (some clouds) and warm, 300C
Health: Henk & Anit in good condition
Thought of the day: It's nice to have a day of doing nothing (Anit) What will be the next place? How to get to Guatemala? (Henk)

Today we woke up not by our alarms, but by the dogs and cats in the morning. We started with a delicious breakfast. Then what? Anit had made a list. Part of the list was washing the cloths. We did a little. Then going to the Internet café. Any news from Europe? We also looked for job possibilities and information about our next destinations.
After the visit to the internet café we had some lunch and then………..back to the hotel. Work a bit on the web-site, read some things in our LP's and just relax.

The day passed by in a breeze……………………………………………We didn't go to the beach though.


Sunday
21st
of May 2006


Place: Tulum, Mexico
Climate: sunny and hot, 320C
Health: Henk & Anit in good condition
Thought of the day: Great, we organized our next trip to Guatemala (Anit) Tomorrow to Guatemala, if you read all these things about armed robbery and theft, you would not go (Henk)
We woke up late this morning. We didn't have to hurry and didn't plan anything special for today so why not to sleep a bit longer. After delicious breakfast we wandered around in the city, we checked the e-mails and read again about how to get to Guatemala. Finally with all the information we had, we made a final decision and bought bus tickets from Tulum, through Belize to Flores, in Guatemala.


Monday 22nd of May 2006

Place: Tulum, Mexico to Flores, Guatemala
Climate: sunny (some clouds) and warm, 320C
Health: Henk & Anit in good condition
Thought of the day: We haven't seen much of Mexico, but what we have seen, was great (Anit) What will be the next place? How to get to Guatemala? (Henk)
This morning we woke up early, had our breakfast at the marvelous restaurant at our hotel Nero di Sole, said good-bye to the hotel staff and left for the bus station. We bought already our tickets so no stress that there wouldn't be a place in the bus.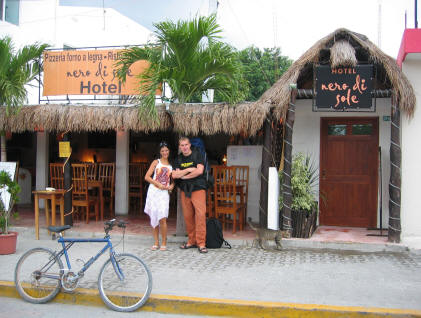 At the bus station Anit had to go to the toilet, but no toilet without a toilet ticket!?!?!?!?!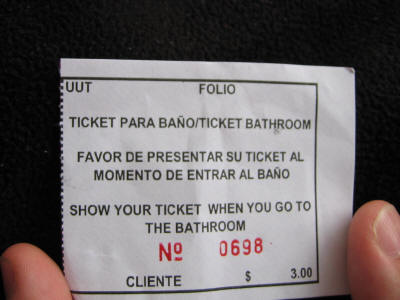 The first trip took us around 4 hours. We went down to Chetumal were we had to stay overnight in order to take an early bus going to Flores in Guatemala. When we arrived in Chetumal, we found a hotel in Lonely Planet which seemed to be ok for one night. We went there by taxi. The hotel was in the city centre and it even had a swimming pool. Henk made use of it of course, as soon as we checked in. Later on, we went to the bus station to book two tickets to Guatemala for tomorrow. We couldn't buy them; it was possible only on the day of departure. After this most important thing, we went to the city centre to look for some food. After some time we finally found a small restaurant where we had quite a descent meal.
The city of Chetumal looked a bit like a ghost city. We walked around to catch a glimpse of it but there was little to see really.
So, at the end we decided to come back to the hotel, read about Guatemala, our next destination, and make some updates of the website.

Tuesday 23rd of May 2006

Place: Chetumal to Flores, Guatemala
Climate: rainy but warm, 300C
Health: Henk & Anit in good condition
Thought of the day: Flores is a lovely tiny town on peninsula (Anit & Henk)
This morning, when we came to bus station, there were two buses going to Guatemala. After some confusion, we found out that our bus was not there yet. No problem, it would come.
After some time, the delayed bus arrived. It was not a very modern bus but after all the buses we used to travel during this trip nothing could surprise us any more. The good thing was that there were some more tourists in this bus (which seems always safer).
Our route was through Belize so we could see some of this country as well but the bad thing about it was that we had to pay taxes (30 US$) while leaving this country no matter that it was only a transit.
After one hour driving of so, the bus stopped. It had a flat tire. Great, great start of the trip. The driver tried to explain something in Spanish and we couldn't understand a word. Anyway, we quickly understood that he needed some help with changing the wheel. All the boys that were on the bus helped him and the girls went to look for toilet in the nature.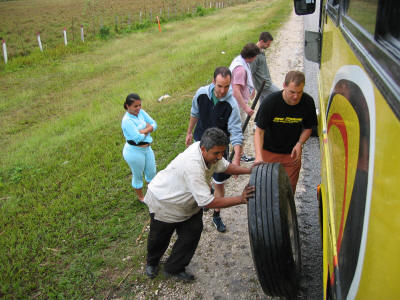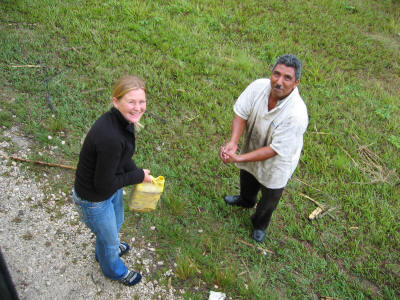 We spent 1 hour on fixing the wheels. Actually he had a bad spare wheel and we first had to change the bad one with a good one. The bad one we put on the back and then the good one we changed with the flat one. Later when we moved on, the driver announced that there would be a coffee break. The place where he decided to have a coffee was not really a great place but there was a Shell station nearby which is a good place when you need some FAMILIAR – WESTERN snacks.
And so we drove again, hour after hour, making stops at the Mexican, Belize and Guatemalan borders. When we entered Guatemala, we noticed that there was no asphalt road going from the border into the land. We watched Guatemala from the bus window with great interest as always when you enter a new country.


At around 3pm we arrived very close to Flores, our first destination in Guatemala. From there, the small bus took us to the city centre of Flores. We didn't know anything about the mini bus transfer but apparently it was included in the bus price. We quickly found a hotel in Lonely Planet and asked to be dropped there. There were even more guys from our bus going to the same hotel. The hotel looked ok, we only negotiated the price as always and half an hour later we walked in the streets of Flores.
We had to figure out how we were going to get to Antigua. To do so we checked the options in Lonely Planet first and that we went to the travel agent recommended by LP. The girl in the agency helped us out and finally we were going to take a night bus to Guatemala City and from there a mini bus would take us to Antigua.
In the beginning we were afraid to take a night bus in Guatemala since it was not encouraged by LP neither by the other internet sources we checked prior to our trip here. Anyway, she said it was totally safe and comfortable so we decided to do it. She also had a nice tip for a language school which could be useful.